---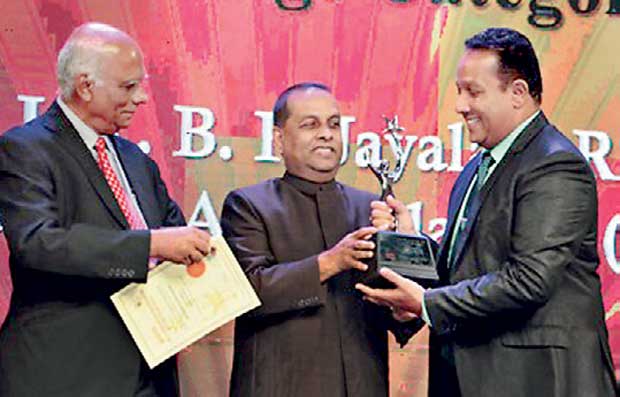 Dr Buddhika Raddalgoda, Managing Director of Pasyale Ayurveda Osu (Pvt) Ltd receiving the awards from Minister Mahinda Amaraweera
Pasyale Ayurveda Osu (Pvt) Ltd has won National Silver Awards in the categories Sri Lankan Entrepreneur (Large Category) 2016 and the Provincial Silver Award (Large Category) 2016 at the Sri Lanka Entrepreneur Awards 2016 held recently in Colombo.
Dr. Buddhika Raddalgoda, Managing Director of Pasyale Ayurveda Osu (Pvt) Ltd, received the two prestigious awards from Minister of Fisheries and Aquatic Resources, Mahinda Amaraweera at the ceremony held at Stain Studios, Ratmalana. This is the first time that Pasyale Ayurveda Osu has competed for this award.
Dr. Buddhika Raddalgoda explaining the secret of their success said it was his concern for the quality of his products and services. "No drug leaves to the market before an adequate sample is tested by me personally. Each batch of production is checked for its taste, colour, thickness, scent and all other characteristics before being stored for distribution. Quality starts from raw materials, their origin , their mode of transportation, preliminary preparation, purifying , washing cutting and drying etc. strictest adherence to quantities according to traditional formulae (vattoru), the traditional method of processing at the appropriate temperatures, boiling, heating and cooling and waiting time at appropriate conditions most conducive to preserve their inherent qualities, The concern for quality does not end itself once the products leave factory premises. Any complaints from physicians, wholesalers, retailers and even from the ultimate customers are well attended to, pertinent advice and instructions given to, and sometimes in extreme cases the entire batch being recovered from the market."
Dr. Buddhika attributes the severe scarcity of fresh plant products to the depletion of forests. "Many of our plants are weeds. The use of chemical weed killers and many chemical fertilizers used to enhance the harvest of commercial products is destroying the entire earth. Farmers only concentrate on commercial products. They completely ignore the importance of weeds they kill. They will soon make the entire earth a barren desert," he noted. Pasyale is in the process of planting its herbal requirements in Pasyale Plantations in Puttalam.