---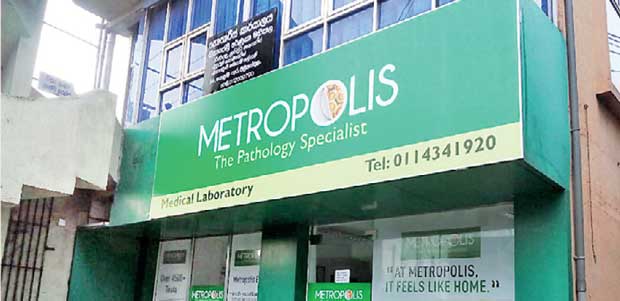 Metropolis Healthcare Ltd, a global chain of pathology labs and diagnostic centres, celebrates 12 successful years in Sri Lanka.

To mark this accomplishment, Metropolis Healthcare announced that it will invest Rs.500 million to expand its laboratories and collection centres. This is in addition to the existing central laboratory in Nawala and six satellite laboratories along with a strong network of collection centres already in operations.

During the last 12 years of operations in Sri Lanka, Metropolis has offered services to more than six million patients and conducted over 20 million tests, while more than 1000 consultants have shown strong support and trust in Metropolis reports across the island.

Metropolis Healthcare Promoter and Managing Director Ameera Shah said, "We have successfully completed 12 years of operations in Sri Lanka and are looking at expanding our network in the country. We plan to invest Rs.500 million in the next couple of years in expansion and upgrading our technologies. We will also be hiring qualified professionals to support this growth and expansion."

Metropolis Healthcare Senior Vice President International Business Avadhut Joshi said, "Over the last decade, we have earned the trust of doctors and patients through the quality of our reports and superior service. We have brought in automation, standard operating protocols, new tests and technologies and a fast turnaround time. We will continue to transform and advance laboratory testing in Sri Lanka."

Metropolis currently offers more than 4500 tests, a number which continues to grow with an addition of 50-100 new tests every three years. Today Metropolis is able to offer any test that a customer needs and a superior customer service of international standards.

Metropolis has been catering to the Sri Lankan market for over a decade and has adapted to the needs of its people with a sense of deep understanding and quality healthcare. Metropolis is looking forward to hiring a world-class scientific and technical team to maintain the quality at the labs.

To further strengthen the base in Sri Lanka, Metropolis Healthcare will be catering to other substantial existing markets including of Batticaloa, Galle, Jaffna, Kandy, Nawala, Mawanella, Tangale, Yakkala, Warakapola and Panadura whilst maintaining a strong focus in Colombo.

Metropolis Healthcare Ltd is present across India, South Asia, Middle East and Africa.