---
Fadna, a brand which promotes benefits of herbal tea which gives tons of health benefits, introduced their newest product, the Fadna Bitter Gourd Tea to the Lankan market.
Bitter Gourd, also known as bitter melon or Karawila, is a unique vegetable-fruit that has also long been used as a herbal remedy for a range of ailments, including type-two diabetes.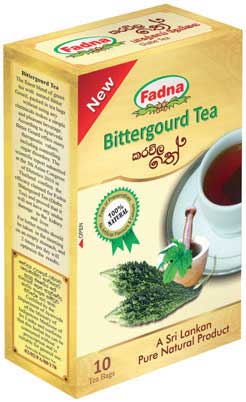 The amazing health benefits of the bitter gourd seeds have been clinically proven by a group of researchers from the University of Peradeniya recently.
The fruit contains at least three active substances with anti-diabetic properties which have been confirmed to have a blood glucose-lowering effect.
These substances either work individually or together to help reduce blood sugar levels.
The university researchers have also proved that the seeds of the fruit have amazing powers which destroy cancer cells, without any side effects or causing damage to liver or kidneys.
Fadna Bitter Gourd Tea includes locally grown bitter gourd variety which is known as the 'Medical Bitter Gourd' and its seeds.
Fadna Bitter Gourd Tea is manufactured using the latest technology, preserving all the medicinal values and comes in handy tea bags, making it easy to prepare for consumption. The product is also registered at the Department of Ayurveda as a herbal drink and is available at all supermarkets and pharmacies.
This revolutionary product is manufactured and distributed by Food & Nature (Pvt) Ltd, who have been the pioneers of the Sri Lankan Herbal Tea industry, sharing nature's herbal goodness with the entire world.