---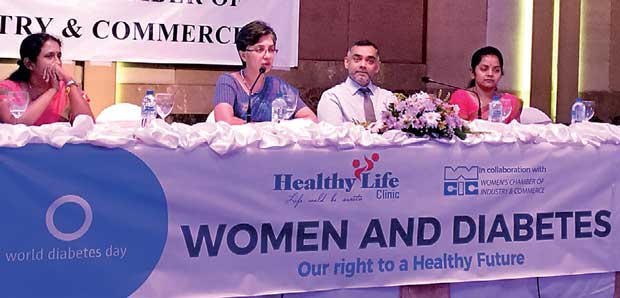 From left: Consultant Endocrinologist Dr. Sivatharshya Pathmanathan, Consultant Physician Dr. Kayathri Periasamy, Consultant Paediatrician Dr. Hashir Ariff and Nutritionist Anusha Ganeshan at the head table during the Q&A session
Coinciding with World Diabetes Day of which the theme this year was 'Woman and Diabetes', Healthy Life Clinic together with the Women's Chamber of Industry and Commerce (WCICSL) recently organized a special awareness workshop.

With the participation of over 150 participants and resource persons including a consultant endocrinologist and a nutritionist to raise awareness about diabetes and to educate women entrepreneurs and professionals on the same, the awareness programme which was held at the Ramada Hotel in Colombo offered free blood sugar and blood pressure checkups for participants coupled with a free subscription for the MyDoctor.lk mobile application which aids users to lead a healthy life by documenting and helping manage blood sugar, pressure, cholesterol and other non-communicable diseases.

The first session was by Healthy Life Clinic Founder Consultant Physician Dr. Kayathri Periasamy, who busted a few common myths about diabetes. She explained that there was no such thing as 'a touch of diabetes', as common as it may be, she emphasized that diabetes should not be ignored or taken lightly. According to Dr. Periasamy, diabetes is caused by the lack of insulin in the blood that regulates blood sugar
level naturally.

She said that if diabetes is not handled properly, it can lead to a host of complications relating to nearly every organ in the body including the heart and blood vessels, eyes, kidneys, nerves, gums and teeth and the gastrointestinal tracts.

The diabetologist also strictly advised against sharing medication and taking or stopping medications without consulting the doctor which are common practices among patients according to her, and ended her presentation by taking the audience through the different services offered by Healthy Life Clinic which is a one-stop-shop for diabetes care in Colombo located in a convenient location in Colombo 03.

Consultant Endocrinologist, Dr. Sivatharshya Pathmanathan in her session emphasized that the theme for the year in fact is a timely one considering that women are the most prone to diabetes with 10.9 percent of the female population being diabetic as opposed to 9.8 percent of males as per latest available statistics by the Healthy Ministry.

She said that with prosperity and disposable income increasing, and with fast food outlets rising in popularity especially among the urban populace, Sri Lanka is seeing an increase in the number of type-two diabetes patients. According to recent statistics by the International Diabetes Federation (IDF), one in 12 adults in the country suffers from diabetes.

She said women should take the initiative in introducing the family to healthy eating and staying active- act as a catalyst, in other words, in the fight against diabetes. She highlighted the importance of avoiding unhealthy 'fast' food and encouraged participants in the audience to take the children on excursions and to engage in exercise as a family and to make it a part of their daily routine as opposed to thinking of physical activity as a chore or a hassle.

Dr. Pathmanathan said that government should make prevention of diabetes a top priority as the alarmingly increasing number of patients is a burden on the economy. She concluded her session with a reminder that diabetes is not a curable condition but a preventable one and therefore everybody should make a conscious effort to adopt a healthy lifestyle for their own sake and their loved ones.
The third speaker, Nutritionist Anusha Ganeshan opened her session by remarking that there was no such thing as a 'diabetic diet', but what a person with diabetes should do is have a nutritious diet which is rich in fibre and vitamins as opposed to carbohydrates and sugar.

As much as eating the right food is important, she stressed on the importance of having meals on time. She said that women had the potential to drive prevention but as caregivers they often push their own needs to the background, creating an unresolved stockpile
of illnesses.

On behalf of the organizers, WCICSL Chairperson Chathuri Ranasinghe thanked the principal sponsor Sunshine Holdings PLC and Sun Pharma, and declared that the awareness programme, the first of many to come, was a resounding success as it was participated by over 150 women entrepreneurs and professionals who are in influential positions both in the private and state sectors.