---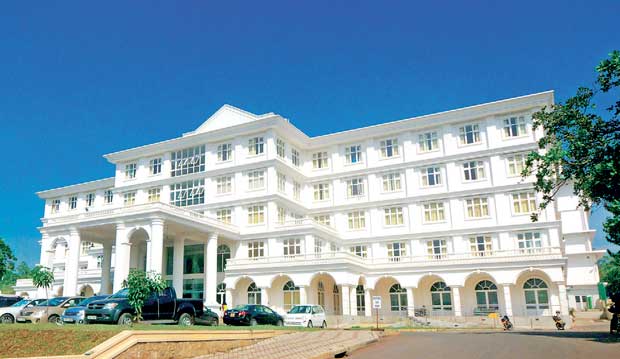 Dr Neville Fernando Teaching Hospital Malabe (NFTH) has opened a new unit which offers comprehensive treatment to patients suffering from spinal cord injury.
The Hospital in addition to providing treatment to spinal injury patients also offers a wide-ranging service to rehabilitate and maneuver patients back to society. NFTH is thus the only private hospital in Sri Lanka that offers a comprehensive rehabilitation solution for patients who suffer from injured spinal cord incurred due to accidents.
Chairman NFTH and SAITM Dr Neville Fernando commenting on the new treatment unit said, Asian Spinal Cord Network and SAARC Surgical Care Society accredited Sri Lanka Spinal Cord Network President, Senior Specialist Orthopedic Surgeon Narendra Pinto will be in charge of the unit. "Surgery itself is not sufficient for the complete cure of patients with damaged spinal cords. To socialize these patients as normal healthy citizens, a systematic rehabilitation process that goes beyond medication is required. It is to fulfill this timely requirement that NFTH initiated this service," explained Chairman Dr Neville Fernando.
NFTH consists of a team of well-trained specialist surgeons, experienced specialist rehabilitation doctors, nursing staff, physiotherapist, occupational therapists and attendants to provide an exceptional service, Dr Fernando said.
In addition NFTH Orthopedic Unit provides treatment for a very reasonable price to all muscular skeletal related ailments for young to aged patients. A state of the art dedicated Surgical Theatre with modern surgical equipment has been set up for the specific use of the Orthopedic Unit. By attending in Muscular Skeletal system related clinics held on Monday and Wednesday, patients have also been given the opportunity to receive treatment for a very nominal fee of Rs. 200-250.
NFTH is the largest private hospital in Sri Lanka with 1002 beds and the first private teaching hospital in the country. Patients also get the invaluable opportunity to obtain the service of over 50 renowned professors and specialist doctors' service round the clock from NFTH.
The hospital is situated in a calm tranquil greenish environment surrounded with flora away from the urban congestion in Malabe just 30 minutes' drive from Colombo. NFTH consists of all facilities needed to provide the required medical services for a very reasonable price to patients.