---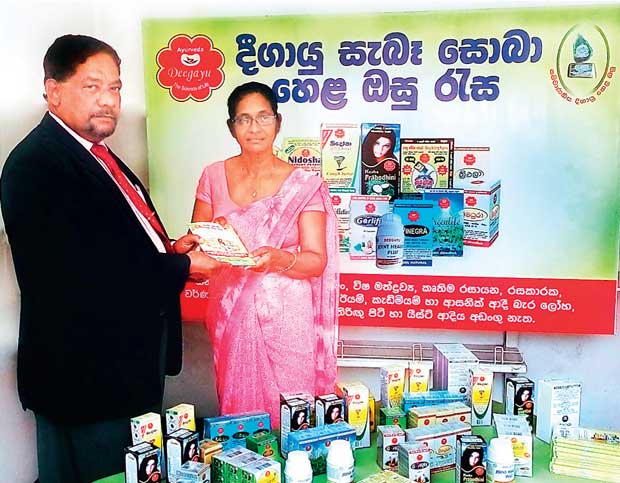 Chairman and Managing Director Sarath Jayakody presenting Deegayu's new product brochure 'Deegayu Saba Soba Hela Osu Rasa' to the advisory physician to Deegayu, Senior Ayurveda Doctor Shiromani Panditha Chithra Jayanthi Sayakkara
Deegayu Ayurvedic and Botanical Products (Pvt.) Ltd., one of Sri Lanka's leading manufacturer and marketer of Ayurveda pharmaceuticals and Ayurveda concept based herbal health care products, recently launched a new product brochure in Sinhala, compiling 16 products formulated and manufactured in compliance with guidelines issued by the World Health Organization (WHO).
Deegayu products combine the age old knowledge of Ayurveda and other traditional medicinal systems, such as traditional Chinese medicine, with the latest developments in the medicinal field for treating ailments, where the allopathic system of medicine still lackssuccess.
Deegayu has named this novel compilation in Sinhala as "Deegayu Sabaa Sobaa Hela Osu Rasa" translated "Truly Authentic Indigenous Medicine Collection" in English, targeting Ayurveda doctors who are in great need for highly efficacious Ayurveda medicines, which offer the desired results in treating patients with confidence. The English and Tamil language copy of the product brochure is also expected to be available in near future.
All the Deegayu products described in the brochure are manufactured in compliance with guidelines issued by the World Health Organization on appropriate use of traditional medicines, and rest assured free from added chemicals, toxic alcohols such as solvents, chemical preservatives, colorants, artificial flavors, sugar, rice or wheat powder fillers, heavy metals and anynon Ayurvedic ingredients.
In addition, the products are presented in a highly sophisticated manner in various dosage forms such as capsules, tablets and tea variants in extremely attractive packaging, meeting international standards.
The brochure includes the products; Nidosha instant Peyava, Nidosha easy boiling Peyava, Nidosha cough syrup, Deegayu Kesha Prbodhini natural hair oil, Deegayu Nimeda, Deegayu Nimadhura capsules, tablets and sugar burner tea, Deegayu Thriphala, Deegayu Katu Anoda, Deegayu Garlifit, Deegayu Slim & Active, Deegayu Greenlife, Deegayu Vinegra, Deegayu Joint Healer plus and 10 herb tea variants of Belimal, Iramusu, Ranawara, Ginger, Gotukola, Kothalahimbutu, Walpenela, Neeramulliya and Karapincha,which are known to be exclusively formulated and manufactured in Sri Lanka
by Deegayu.
Simple language used in the product brochure is very much appropriate that, anyone who can read Sinhala can easily understand the product description and the application. Hence, Deegayu hopes that this will definitely meet the objective of introducing genuine, authentic Ayurveda products to anyone who is interested, and can benefit by using these products as a preventive care for major ailments, rather than resorting to chemical based medicines, which do not produce the desired results.