---
CDEM's clinical service is committed to a bench-to-bedside approach, taking service through from basic science discovery to clinical application under Dr. Malith Athapattu, Medical Director and General Manager of Center for Diabetes Endocrinology and Cardio Metabolism.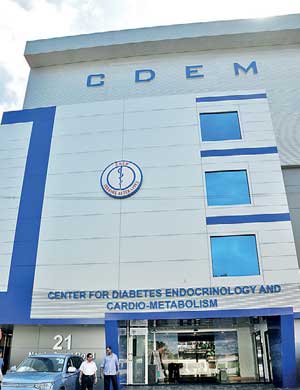 Elaborating on specifics as quality, center specialists expertise and center procedures he said, "CDEM is benchmarked for its fully-equipped modern clinical laboratory with state-of-the-art futuristic devices and international standard mechanisms, and due to the continuous supervision by a team of consultant medical specialists, the centers value increases constantly," he emphasized.
"Our quality is assessed overall by Randox laboratories and Biorad laboratories of UK while our internal monitoring continues daily under meticulous in-house quality control. Our laboratory tests are validated and monitored by a team led by histopathologists, clinical pathologists, hematologists and microbiologists."
Our helpful, informative, polite and friendly lab staff put patient's minds at ease and when collecting blood samples these fully trained and experienced phlebotomists work is amazing its absolutely pain free.
A patient's information is entered into our hospital information system when we issue a receipt for his or her lab test. The test tube we use to take a patient's blood sample has the patient's details in a barcode and this method provides for a fast and an accurate result when theses samples are taken quickly by the laboratory. The unique and sophisticated process eliminates human error completely and a patient's blood report is conveyed promptly to his email.
Ultra sophisticated tests as high-sensitive cardiac troponin 1 and many such futuristic mechanisms we use carry the assurance of highly accurate results generated in the shortest duration of time to be precise in just 40 minutes.
The efficient operation of a clinical laboratory and the effective delivery of medical laboratory services to clinicians, doctors and patients require a complex amalgamation of expertise in medical, scientific and technical areas as it is a prerequisite for not having a margin of error leading to (01) unnecessary treatment (02 treatment complications (03) failure to provide the proper treatment (04) delay in correct diagnosis (05) additional and unnecessary diagnostic testing.
CDEM's Laboratory is in safe hands with Dr. Malith Atapattu guiding the destiny of the lab expertly through a professional background and clinical experience gained as Head of Lanka Hospitals Medical Services. He has extensive experience in clinical judgment and in-depth expertise in medical administration.