---

From left: Stroke Unit Resident Physician Dr. Thurul Attygallle, Consultant Interventional Radiologist Dr. Nihal Wijewardena, Group Chief Executive Officer Dr. Manjula Karunaratne, Consultant Interventional Radiologist Dr. Lakmalie Paranahewa and Medical Director Dr.Ruwan Senatilleke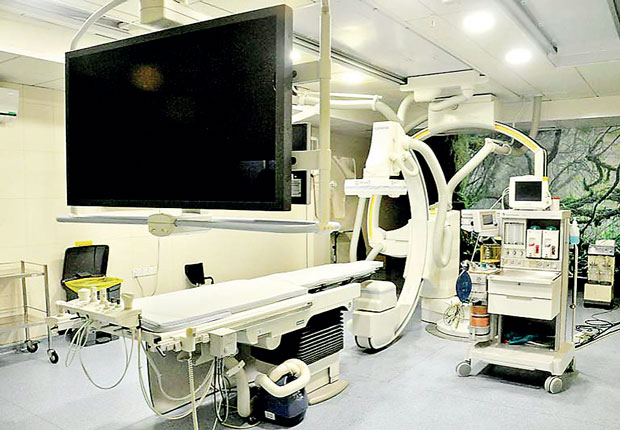 By Zahara Zuhair
Asiri Central Hospital, part of Asiri Group of Hospitals, which comes under Softlogic Holdings PLC, shared its success stories in breakthrough treatment option, neuro-interventional treatment, at the hospital auditorium, recently.
The media briefing, where the patients too attended and shared their experiences, was held to make the public aware about certain treatments and facilities the hospital offers, that can be acquired only from them, in situations such as stroke which needs immediate treatment.
Being the only private hospital to have the 'interventional radiology unit' facility, it offers advancements in diagnosis and treatment of aneurysms, stokes, and other neuromuscular conditions through its state-of-the-art, bi-planer catheterization laboratory.
The 'biplane digital subtraction angiography unit' was commissioned in 2013 by Asiri Central Hospital, with an investment of Rs. 150 million.
"This is the first dedicated bi-planer neuro-cath lab in Sri Lanka, where we have done a large number of neuro interventions with very successful results," Consultant Interventional Radiologist Dr. Lakmalie Paranahewa said.
For the treatment that would cost around Rs.10-15 lakhs, it was noted that Rs. 3 lakhs could be gained from the President's Fund and they said that they are looking forward to increase that amount.
In addition, the unit also treat patients diagnosed with AVMs (arterivenous malformation), which is group of abnormal blood vessels connecting arteries and veins which when ruptured cause bleeding in the brain.
"This difficult condition too can be treated successfully with endovascular procedure with less complications in comparison to surgery," Dr. Paranahewa said.
Further, it was noted that at the hospital's interventional radiology unit, patients with certain vascular diseases in the spine also receive treatment through endovascular procedures.
"We have had many patients who have been bedridden due to spinal vascular malformation who have recovered and are leading normal lives after the procedures," Consultant Interventional Radiologist Dr. Nihal Wijewardena said.
The hospital also boasts of an acute stroke management unit.
"This kind of dedicated stroke unit is only available at Asiri Central. We have a dedicated stroke physical, and the ideal setup where everything is on hand at any given time for optimum treatment of a stroke patient. We are also the only hospital to perform clot retrieval where for an acute stroke it involves the mechanical removal of a blood clot from a patient's brain," Dr. Paranahewa said.
"A stroke is no longer an old-aged disease, there has to be renewed public awareness that just administering the drug is insufficient, treatment of clot retrieval should be carried out immediately," Dr. Wijewardena stressed.
The unit also performs a variety of peripheral vascular and genitourinary interventions, as well as in the diagnosis and management of gastrointestinal bleeding, interventional treatments in the form of embolization is also performed by the unit.
The hospital expects to continue to introduce different technologies to the Sri Lankan healthcare system.