---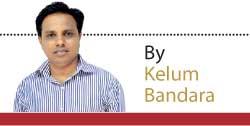 Megapolis and Western Development Minister Patali Champika Ranawaka, who is widely seen as an aspirant to be President, speaks about the presidential elections, the budget and his ambitions.
Excerpts:
---
No place given in politics for those from backwater
Fraudulent, corrupt lot of politicians from aristocratic backgrounds stands in their way
UNP has only 3.5 million votes in hand, but needs seven million to win.
Only the middleclass can provide it
---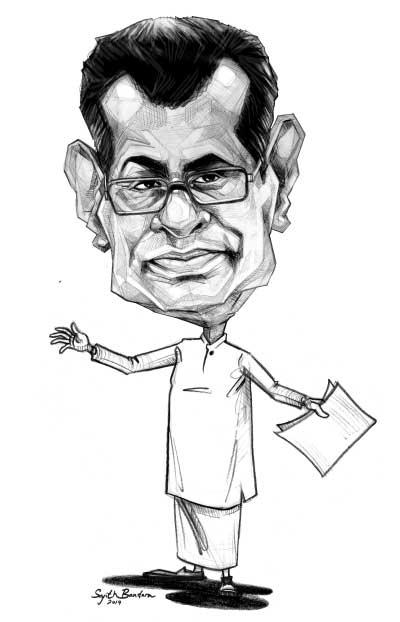 Q Everybody talks about the Presidential Election. What do you think of it?
There is only one winner at a Presidential Election. But it is a tussle between two main political camps only. The political force or camp led by Sri Lanka Podujana Peramuna (SLPP) has already become a force to reckon with. That is one camp. From that camp, there are several Rajapaksas staking a claim to contest at this election. President Maithripala Sirisena is slated to join that camp staking a claim to be a contestant.
The other force will also emerge as an alliance to contest the election. That is called the National Democratic Alliance (NDA). It is yet to decide on its presidential candidate. It will decide on its candidate depending on several factors. One is the ability to win. This democratic alliance should identify the person who is trusted by constituents as the best bet to resolve burning issues confronting our society at this time. It should recognize the person competent enough to realize the aspirations of the educated middleclass of this country.
The UNP only has 3.6 million votes in its hand. It needs seven million votes to win the elections, though. It should reach out to the moderate segment of the middleclass society to find the remaining 3.5 million votes. Diehard followers will vote anyway to the party's candidate. However, it is the middleclass floating voters who matter. Such floating voters cast their ballots only on the merits of the policies of the candidates in the fray. Therefore, the chosen candidate should be able to live up to these expectations of moderate voters.
The candidate will be chosen upon considerations of all these factors combined. The candidate will be selected through a democratic process, unlike in the Rajapaksa camp where the candidate is pre-determined.
Q Some people suggest Housing Construction and Cultural Affairs Minister Sajith Premadasa as the candidate. Others mention Speaker Karu Jayasuriya. Even, your name is mentioned. What do you think?
A leader does not arise out of the blues all of a sudden. You have to select someone as the leader from among the promising lot. A leader will emerge from among those in the forefront. Different names are mentioned. Be that as it may, we don't have anyone seen as indispensable and revered. It is not so in the other camp. They look to a single person who is seen by his followers as indispensable and revered. For them, the personality of the leader matters, not his policies. He is the icon for them. That is all. Actually, it borders on ancient serfdom in feudal structure. Here, it is not the case. We have collegial leadership. There are many names in it. Someone will be picked from among them, subject to his ability to deliver at the end.
Q Are you ready to take it up?
My intention is not merely to ascend to presidency. My wish is to realize public aspirations as and when the situation demands. We were battered by terrorism as a country. We stood for its defeat. The forces, opposed to us, said that terrorism could not be wiped out without offering a Federal solution to Tamil people.
Our view was that LTTE leader Veluppillai Prabhakaran should be militarily defeated to resurrect Tamil people. In 2005, Mahinda Rajapaksa, Gotabaya Rajapaksa and Basil Rajapaksa did not stand for it. That was why, they went and held talks with Tamilselvam in Geneva.
We were of the stance that the LTTE should be defeated since 1995, though. We have achieved the target. Next, I proposed two concepts for economic development. One is to create five hubs in the country based on the country's strategic geographic location. It was included in the Mahinda Rajapaksa manifesto. Unfortunately, development was not driven in line with this model.
Investment projects were selected according to the whims of politicians. In 2013, I pointed out that Sri Lanka should be innovation-driven.
Today, the Rajapaksa camp talks about discipline. We witnessed the so called discipline during their time. We saw how the local politician nicknamed Ata Kota conducted himself in Avissawella.
We saw how the then Chairman of Tangalle Pradeshiya Sabha conducted himself. The former rule wiped out only the underworld gangs which were not servile to it. They suppressed media and violated all norms of democracy.
We need discipline. That is freedom for people. Then President J.R. Jayewardene, with his formidable political might, tried to force his way forward. He unleashed economic forces. He opened up the economy and set up industrial zones in Katunayake and Biyagama. The Urban Development Authority (UDA) and Mahaweli Development Authority were set up. Yet, there was insurrection against him both in the north and the south because he did not give freedom to people. We managed to bring about democratic changes in 2015.
Meritocracy prevails in all sectors, but not in politics. The clever can make their way in other fields but not in politics. We need politics based on meritocracy. Absence of meritocracy in politics has plagued all layers of governance from the local authorities to presidency. We have to root it out. Today, in most professional fields, it is the past pupils of the Central Colleges making their mark.
Actually, those who pass Grade 5 scholarship get admission to the top elitist schools and central colleges. Don't these Grade Five scholarship geniuses have a chance to join governance? There is no space for them because a rotten band of fraudulent, corrupt politicians are at the helm with their aristocratic roots. We need a social revolution. We will appear for laying the foundation for this social revolution.
Q You are also a product of a central college. You have said that you came up the hard way. Does it mean that you stake a claim for the country's leadership?
It is something to be decided by the people of this country. I am proud to say that my parents inculcated in me moral values and education. Politically, I am self-made.
There is no chance for these 'Grade five scholarship giants' who scaled up the social ladder to make headway in politics because the corrupt and fraudulent politicians from an elitist, aristocratic background stand in their way. We should dispense with the rotten lot of politicians.

Q You said you stood for realization of social aspirations that prevailed at different times in your political career. In 2005, you said you stood against terrorism. In politics, the Cabinet post is the highest achievement you made. Do you think that it is time for you now to eye a bigger post in the governanment?
It has to be decided by social forces. It cannot be decided individually. What we can decide individually is minuscule. I appear for the realization of the country's goals, not my personal goals.
Q You have cited the 19th Amendment as a great achievement in the restoration of democracy. But, the President likened it to a child molested. What do you feel?
The President is grumbling. Why? That is because he cannot act according to his whims. People elected him to office unseating Mahinda Rajapaksa. Why? People voted him to office because they wanted a system where policies werre upheld over personal whims.
Today, the President cannot appoint judges as he wishes. I represented the Constitutional Council as the President's nominee. He never influenced me to take decisions. In the appointment of members to the independent commissions, we called for applications. Then, we introduced a scoring system for each application. We have shortlisted them. We chose everyone based on meritocracy. We took into account their experience. We considered gender balance. Only after that were the appointments made.
In the appointment of certain judges, the Speaker, as the Chairman of the Constitutional Council, received petitions against some of those nominated for judicial posts.
There is nothing perfect. However, it is better and more democratic for a body of persons to take decisions rather than entrusting everything to the hands of one individual.
Q The President said there was no criterion followed in making appointments. What is your view?
There was a criterion. We followed. I can say it categorically. The Constitutional Council, which I represented, followed the proper criterion and guidelines. Today, the judiciary is independent. It annulled the presidential decision to dissolve Parliament through unconstitutional means. There was a quo warranto given against the President's move to appoint a new Cabinet unlawfully. The President may have ill-feelings because of that. The President cannot act arbitrarily today.
Q As for the budget 2019, it is a consumerist budget. What are your views?
Debt servicing is the crisis. We have allocated only Rs.734 billion for development. Instead, we have to spend as much as Rs.2,200 billion for debt servicing. Of it, Rs.800 billion is meant for interest payment. There is no move to come out of it.
Let that alone, we have a surplus in the Primary Account. Also, we have increased Government revenue. It is 15 percent of the GDP.
Q But, the debt component has increased as a percentage of the GDP under the new Government. How do you respond to it?
Here, we have to look at the composition of our debts. We have made borrowings to settle previous borrowings.
Q The Government has not planned for long term macroeconomic plans. Why is it?
That is because this is the last year of this Government. The Government is more concerned about livelihood.