---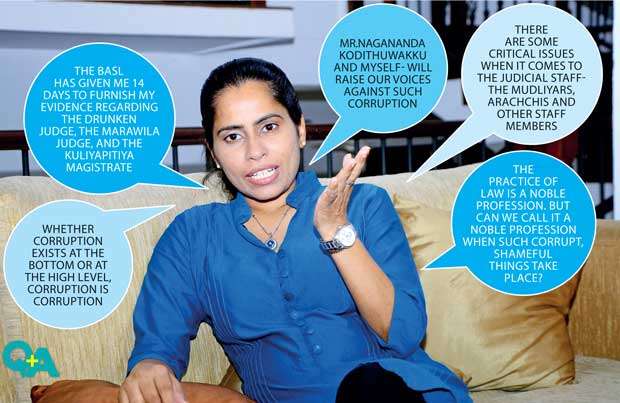 Pix by Waruna Wanniarachchi

"Being a lawyer is not a privilege to disobey the prevailing law. If there is a forum or a bench I will appear before it and give evidence. There are nearly 15 000 lawyers and only a very few are corrupt. I'm raising my voice to restore the nobility attached to the legal profession. If I am penalized I will be happy. We have filed cases against six Supreme Court judges. How can speaking the truth be considered as contempt? If we fail to maintain the rule of law, the society will collapse," are the utterances by outspoken Attorney-at-Law Sugandhika Fernando.

Young legal practitioner Ms. Fernando stirred controversy recently, when a video of her speaking about misconduct and corruption within the judiciary and law enforcement authorities at the National Library Auditorium, went viral on social media. The observations she made, which include her first hand experiences, create a bleak picture of our justice system. While some have hailed her for her bravery of speaking against such injustice within institutions mandated to deliver justice, she has also been subjected to criticism. In an interview with Daily mirror the Sugandhika Fernando, who claimed she was not politically motivated, stressed she would continue her fight against corruption even if she is removed from her profession.

Excerpts:

Q What are the main issues that you have identified in the justice system?

The main issue is related to the judiciary. Parliamentarians influence the judiciary. The hands of judges are bound from delivering a justifiable order or judgement because of influences made by politicians. There are some critical issues when it comes to the judicial staff- the Mudliyars, Arachchis and other staff members. There isn't an adequate number of staff members to handle court related matters. For example, there is a lack of staff to bind case books. A case record has to be bound as a file. Lawyers file the action, but the case records haven't been bound. There is also a lack of stenographers, clerks, peons and arachchis. How can we maintain a proper judicial system without a proper office? As a country we must find a solution for this. In a society where the judicial system and rule of law are maintained the country will be in order.

People have realized this, but nobody has raised a voice against it. So we- Mr.Nagananda Kodithuwakku and myself- will raise our voices against such corruption.

Q What facilitates corruption and misconduct to perpetuate within the judiciary and law enforcement authorities?
People prefer doing things easily. For example, if I want to file a case before a court, I should go to the Registrar. There are several steps in the procedure to be followed. I have to wait to get a case no. I have to waste a lot of time there. But if I give Rs.1000 with the file, everything will be easy. Corruption starts there, from the bottom. Whether corruption exists at the bottom or at the high level, corruption is corruption. It is fraud whether the amount involved is Rs. 1 or Rs. 1 billion. We have to raise our voice against corruption.

Some staff members ask for yogurt, peanuts and tea to perform their duties. It's their duty to perform their office work. They receive salaries from the Government. So why do they have to ask for yogurt and other things from clients or other people who have come there? I am against this.

Judges, the judicial staff and lawyers should work together. We have to help each other. I'm not saying that we should obtain special favours from the staff or the bench. But there should be mutual understanding. Every person has dignity. A lawyer should not raise his voice against a lower staff member, because he or she is a lawyer. Lawyers don't have that kind of right. Lawyers are citizens too. They aren't people with super powers. People think that if lawyers do something wrong they won't be charged. I am a citizen and I am an attorney-at-law by profession. Judges and parliamentarians are also under the law.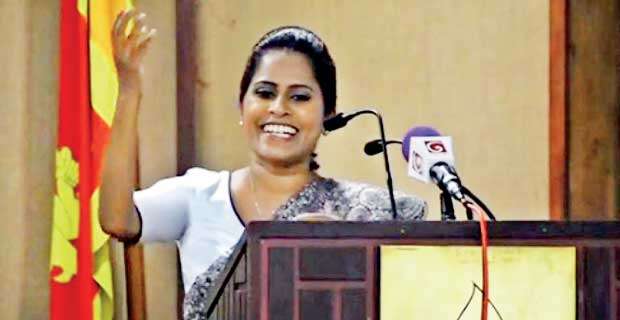 Attorney-at-Law Sugandhika Fernando, speaking about misconduct and corruption within the judiciary and law enforcement authorities at the National Library Auditorium

Q Aren't there adequate laws to prevent corruption within the judiciary?
There are many laws. But who can make complaints? If there are corruption allegations, for instance, against a judge, who will make the complaint? Who will make complaints against lawyers? People should have guts to make complaints against anybody, be it the President, the Prime Minister or a Parliamentarian. There are laws, Supreme Court rules and customs. But who will make the complaint? There should be a complaint to take action.

Q What kind of action did you take against the misconduct of officials you revealed in your speech?

Under the Assistance to and Protection of Victims of Crime and Witnesses Act, No. 4 of 2015 a magistrate doesn't have the jurisdiction to grant bail except under special circumstances by the Court of Appeal. In one instance, at the Marawila Court, bail had been granted by the magistrate when there were no special circumstances. To make a complaint I had to obtain the case records. I made many motions requesting for a copy of the case records. But the Registrar told me that the case records were in the judge's chamber. How can we make a complaint then?

After I made the speech they gave us a copy of the case records. The aggrieved party will take the necessary and appropriate action against the judge.

Regarding the Mudaliya's issue which I've mentioned in my speech, I made a complaint to the District Judge, with copies to the Additional District Judge, the Judicial Service Commission(JSC), the Bar Association of Sri Lanka(BASL), and the Chilaw District Bar Association. There was a proper inquiry conducted by the DJ. A stenographer, a registrar, and the relevant Mudaliyar were present.

Finally the judge asked the Mudaliyar to worship and apologize to me. I didn't want him to worship me because he is older to me and because he is a male. When Nelson Mandela was released from prison he said that he could forgive, but not forget. Similarly I told the Mudaliyar that his conduct shouldn't be repeated. Mudaliyars shouldn't act in such a manner. I took oaths in 2010. I made this complaint after two or three months of taking oaths.

The BASL has given me 14 days to furnish my evidence regarding the drunken judge, the Marawila Judge, and the Kuliyapitiya Magistrate. There are several cases in which judges have acted in an unjustifiable manner. I have documentary evidence. I am an eyewitness. I faced the injustice. So I will submit an affidavit. If there is a forum or a bench I will appear before it and provide evidence.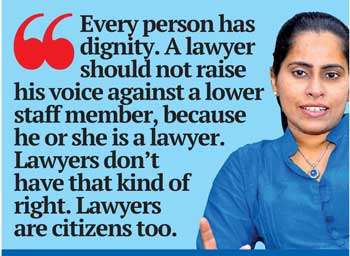 Q You've spoken about junior female lawyers being sexually harassed and sexual favours being asked from female clients and even female lawyers. Could you explain more as to your experiences and observations regarding this?

My experience is related to the Chilaw and Marawila Bars. That's where I worked. You know about Justice Lenin Rathnayake's conduct. That was about sexual harassment and lawyers helped the judge. These issues are not just limited to the Marawila and Chilaw courts.

I know personally that some lady lawyers have illicit affairs with police officers in order to obtain cases. It's okay if the relationship is for love and affection. Police officers are transferred. So when the same lady lawyer allegedly has relationships with different police officers who are appointed successively to that police station, it indicates a problem. Women don't reveal that a particular lawyer asked them to come to a particular hotel to sleep with them because it affects their character. But this is the bitter truth. After my speech many have phoned me and told me the issues they've faced. I now have a series of cases against lawyers and police officers.

Q You've been accused of making generalized statements. To clarify is the entire judiciary and are all law enforcement authorities corrupt, or is it just a few?

It's a very few who are corrupt. My colleagues have misunderstood what I've said. They have made a web with police officers, jailers, prison officers and other relevant authorities. Due to the presence of these corrupt lawyers the entire profession has received a bad name.

I am now being criticized for humiliating the legal profession. What I want to do is to put a stop to such corruption and protect our dignity as attorneys-at-law. Lawyers should understand why I've raised my voice. The practice of law is a noble profession. But can we call it a noble profession when such corrupt, shameful things take place? I'm raising my voice to restore the nobility attached to this profession and not to go against my fellow lawyers. There is a notion among people that lawyers are rogues and thugs etc. This is because of a few individuals. BASL should take necessary and appropriate action against such lawyers. It's then that the professional dignity of the rest is guaranteed.

Q How important is it to issue a receipt for money paid to lawyers as some lawyers have said that it's impractical to issue receipts for every case as there are many cases that a lawyer has to handle?

If there are a lot of cases they should maintain a system to issue receipts. In vegetable shops or small groceries the mudalali or the shopkeeper issues a bill. Even doctor's give us a receipt detailing the cost of medicines, the channelling fee etc. Why can't we (lawyers) do this? It is our duty to issue a receipt. People have the right to ask for a receipt.

Q What are your observations on what causes law's delay?

The delays in the application of the Law is a very crucial issue. To conclude a case involving an assault charge it takes 11 years. If the bench wants to call for a medico-legal report from the doctors or the Attorney General's statements it takes a longtime. When witnesses are summoned and if there are no witnesses, witnesses are summoned once again. If there are no witnesses on the following day, they are summoned again. It should not be so. People need justice soon. There have been instances when people have died before the judgment was delivered.

Q How do you plan to change the prevailing system?
On one hand we are raising our voices and on the other hand we are filing action against judicial corruption before the Supreme Court and other relevant authorities. We have filed cases against six Supreme Court judges. This is how we can fight and find a solution.

Q Aren't you afraid of being penalized?
No. If I am penalized I will be happy about that. History will testify that there once was a woman who fought and lost her cloak. I will not be disturbed by this. It is true that I will not be able to appear in court as an attorney-at-law. But do you think I will stop this fight? No, I won't. I will fight as an activist, as a citizen. I can file action as a citizen. If my license is cancelled my struggle will become stronger.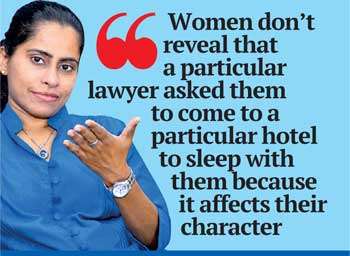 Q You spoke about filing action against judges in court. We find Ranjan Ramanayake facing a contempt of court case for criticizing the judiciary. One wonders whether the public has the right to criticize the judiciary. Your comments?

They have the right to criticize the system. It's freedom of expression. How can speaking the truth be considered as contempt? The truth I have spoken is already known by the masses. If judicial proceedings are subjected to outrageous and reckless comments that can be contempt of court. I am not affiliated to any political party. Ramanayake said in his statement that it's not all lawyers, but a few who are corrupt. This is true. My view is that this case is wrong.

Q Recently there were news reports that you were charged with for speeding on the Expressway. Could you tell us what happened?

On the 15th of March there was a case before the Supreme Court against P.B.Jayasundara. I was coming from Chilaw and I was late. The speed was 114kmph. I received a ticket and the police took my driving license. As a lawyer who stands for justice I accepted my wrongdoing. The police has a right to take my driving license. But I lost my ticket and couldn't pay the fine at the post office.

If I had paid Rs. 1000 at the post office there would have been no issue. But I had misplaced the ticket. So when I realized that the time had lapsed I lodged a motion at the Magistrate's Court.

I went to the accused's box and pleaded guilty. Lawyers asked me why I didn't tell the police officer that I am a lawyer, when he asked for my license. It is irrelevant that I am a lawyer and that I had a case involving P.B.Jayasundara at the Supreme Court. I had committed an offense and I accepted that. The law is the same to everyone in this country.