---
Says Trupti Desai, founder of Bhumata Ranragini Brigade, who recalls how India responded when she threw her weight behind campaigns that support women's right to enter temples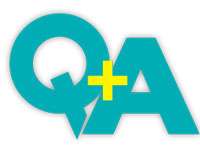 The highly venerated Sabarimala Temple in Kerala recently made headlines when two women made their way into its premises. Kanaka Durga and Bindu are part of a larger women brigade who were fighting for justice. Members of the Bhumata Ranragini Brigade, founded by Trupti Desai, who identify themselves as a gender activist, have thus far succeeded in making their entry into the Haji Ali Dargah, Shani Shingnapur Temple, the Trimbakeshwar Shiva Temple, the Kolhapur Mahalaxmi Temple and lately the Sabarimala Temple. What makes these attempts interesting is that all five temples have banned the entry of women with the reasoning ascribed to menstruation and to maintaining the purity of the temple. Even now, if a woman enters a temple, a purification ritual is carried out despite Supreme Court rulings.
In an exclusive interview with the Daily Mirror, Desai shared her experiences, what inspired her to setup Bhumata Ranragini Brigade and why the mindset of people needs to be 'purified' first.
Excerpts:

Q : Tell us about yourself.
I had an interest towards social work since college. I studied home science at SNDT College in Pune, affiliated to University of Bombay and pursued a Bachelor of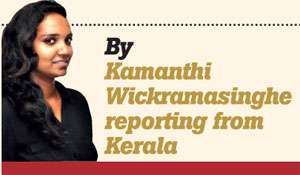 Arts degree at the Open University. Initially I started working for the poor and homeless and in 2003 I was elected President of the Krantiveer Jhopdi Vikas Sangh in Pune. When a Rs. 50 crore fraud took place at the Ajit Cooperative Bank back in 2007, nobody came forward to protest, but I initiated a protest for two years backed by the support of 35,000 depositors. In 2009 we succeeded in our attempts and 30,000 depositors got their money back. Through this I came across many contacts in social and political spheres who requested that I should open up a party or an organisation since they observed how aggressive I was. This inspired me to establish the Bhumata Ranragini Brigade back in 2010 which stands against injustice for women and all sorts of corrupt practices.

Q : How has the progress been so far?
The Brigade is currently based in Maharashtra state, but we have requests to establish offices in other states as well. Our organisation is open to anyone. Any man or woman can join us. We have wings in many districts and anybody could seek justice despite not being a member. Our motive is that violence against women and unfair treatment faced by women should be dealt with rather aggressively. Women should take the form of Goddess Durga. We have a Tai squad. Tai means elder sister. We work in colleges to spread the same message. Those who feel that they have faced injustice could come to us and we will help them. We protest if the police doesn't file cases or don't act on time. We have 15,000 women in our organisation. We have always been aggressive and that's why we call our organisation a brigade, like in the Army. We are happy that our work has made history and our main objective is to change the mindset of people.

Q : How did your family respond when you became a gender activist?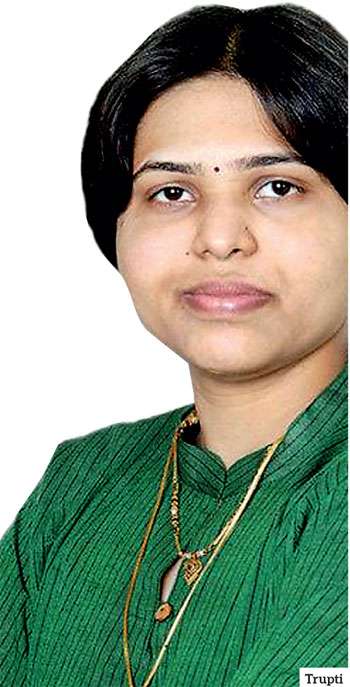 My mother always said that if I was interested in social work that I should go ahead. Hence, my parents have supported me right throughout and I also receive much support from my husband. During the Shani temple case, many people protested saying that I was working against the Hindu religion and questioned as to why I had to go to Haji Ali Dargah. However, as I protest for the rights of women I know that I have their support.

Q : How challenging has it been to make progress as a gender activist?
When women weren't allowed to enter the Shani Shingnapur Temple back in 2015, we were appalled to see the temple carried out purification rituals. I had a question as to why we couldn't enter this temple when we could do so in other temples. The Constitution gives us equality, but where is it? Hence we started protesting in December 2015. Similarly when we found out that women couldn't enter Haji Ali Dargah in Mumbai we followed it up. When we started our campaign, Hindutva organizations protested against us and threatened us with death. Even the Trimbakeshwar Shiva Temple and the Mahalakshmi Temple cases were successful. In the case of the Sabarimala Temple issue we said we will protest during 2017/18. We received threats and were asked to wait till the Supreme Court issued its verdict. In September last year, the SC ruled out the ban on women of menstruating age from entering the Temple premises. I was stopped at the Kochi Airport for 14 hours by Kerala Police. Taxis conducted hartal so that we couldn't commute. Lodges were closed and racist Hindu organisations stood in our way. But we succeeded amid various risks. Once we were attacked despite police protection I was admitted to the ICU. I don't come from a family of powerful people. I come from an average household. I have endured character assassination and instances when people even distorted my images and spread it across social media. We have been vulnerable to attacks from the inception of our journey, but we believe that our willpower is strong and we will always win.

Q : When Bindu and Kanaka Durga climbed the path to the Sabarimala Temple, people offered various views. What were your observations during this case?
We received close to 600 threats as a result of the Sabarimala incident. Bindu and Kanaka Durga's entry was a win for our rights. It was a courageous attempt and we appreciate it. The Kerala Chief Minister recently announced that after their entry, 51 women have entered the Sabarimala Temple. On January 1, 2019, many women took to the streets and supported us. Women were bold enough to form a unity wall, voicing out for equality. Even the Supreme Court supports us. People used to tell me about superstitions if we went against the norms, but we want to bring about equality through temples.

Q : Don't you think that even after the SC has issued its verdict, people are protesting against it for their own benefits?
Agitation continues and therefore the Courts must extend their support towards us. In addition, 24-hour protection should be provided for women who decide to reach the sanctum sanctorum. It is difficult today because people have become so violent that they could even kill women who are attempting the climb. People are radical. Politicians are also working for their benefit. Politics came in the way and even Prime Minister Modi criticised the Kerala Government for supporting the women. In turn, we want to tell him that we cannot be stopped. The BJP supported us during the Shani Shingnapur incident, but why can't they support us regarding this? This is nothing, but politics.

Q : Recently Kanaka Durga was attacked by her mother-in-law in response to the attempt made by her. How do you see this?
Even my family was pressurised to leave me. People asked my husband to divorce me as I broke the faith. It is wrong that Kanaka Durga's mother-in-law beat her up. The mindset of these people could only be changed if we keep coming forward to break conventional stereotypes and norms.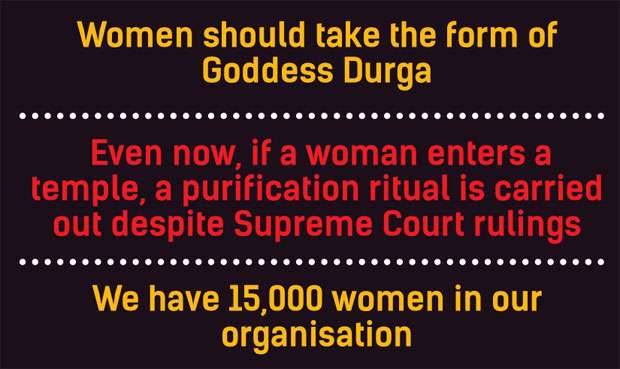 Q : The Sri Lankan woman who entered the Temple said that her uterus was removed and that she was in menopause. However, she was still blocked from entering the sanctum sanctorum. So, where does the law stand in this situation?
She shouldn't have been stopped. In fact she should have been respected. It is very wrong that these purification rituals are done after women enter the premises. Their mindset need to be purified first. It is an insult to women. The SC verdict is not being implemented as well as the Right to pray. Our country is being humiliated as the ruling spread to other countries such as Sri Lanka, whose devotees visit the temple to seek blessings.

Q : Is there space for women to be involved and excel in governance and corporate sectors?
Of course, reservations are there today. There are opportunities for women even in politics. I believe that they should get 50% reservation in order to put an end to corruption.

Q : Where do you see India in 10 years time in terms of female activism and people supporting you?
Today's struggle will lead to development in the future. We are facing pain today, but I think with time we would eradicate all violence against women and people will help women with their rights and equality. At present we are fighting for that golden future where there is no dowry and violation of rights.

Q : Sri Lanka has an equal challenge in making the voices of women be heard. What is your message to gender activists in Sri Lanka and around the world?
I say that we should continue to fight for equal rights. I wish them well and will support them. Equality should prevail. Making people aware of their rights is key in
this fight.