---
We don't think that theft and issues pertaining to democracy can be easily addressed unless there is a total change in the present economic system and political culture
What we suggested to the JVP was the need to collectively form a people's movement to face future challenges pertaining to democracy
On the other hand the former army officers who are contesting this election are also making use of Karuna's statement for their own advantage on ethnic lines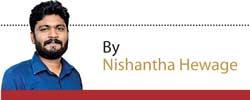 The Daily Mirror in an interview with Propaganda Secretary of the Frontline Socialist Party Pubudu Jagoda discussed politics and democracy in Sri Lanka and ragging at universities among other burning issues.

Excerpts:
Q What is the background for re-joining of the JVP and the Frontline Socialist Party (FSP) ? Why did you have to go in different ways and why have you rejoined?


There is a misunderstanding among many as to why we wanted to rejoin. Eight years ago we formed this party with members who belonged to the JVP. We represent ourselves as a party that seeks a structural change regarding persisting issues. By addressing the current issues and demanding temporary relief for them, we expect to rally all struggling networks to make solid changes to the system. With regard to the JVP, which is now called National People's Power (NPP), it thinks that it has to engage in politics only in the parliament by speaking about ongoing thefts and other issues that have given rise to a buffer in the present democracy. We don't think that theft and issues pertaining to democracy can be easily addressed unless there is a total change in the present economic system and political culture.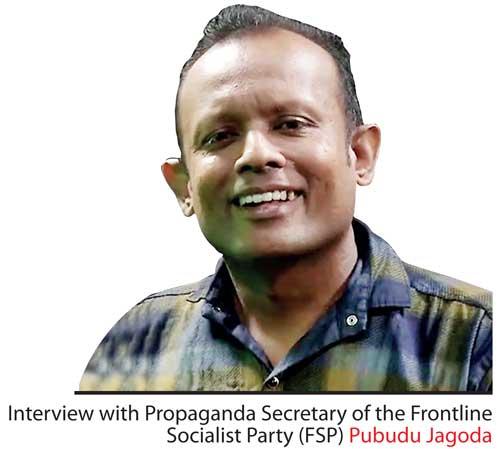 It is noticeable at present that it is favourable for those who have money power, media support and state power when contesting the 2020 parliamentary elections. The others are sidelined. This is not a ground where the teams are provided with similar opportunities. Therefore, we think that there won't be a drastic change in terms of representation in the parliament after the general elections. What we suggest is that there can be many issues pertaining to democracy in time to come. For instance the Quarantine Act is to control the spread of the virus, but there is a tendency that this act is used to suppress protesters. The Cabinet approved the National Intelligence Act this January. According to the provisions in that act, officials attached to intelligence services are made immune to the general law of the country which applies to all citizens.

It is evident that there is a problem with regard to democracy in the country. What we suggested to the JVP was the need to collectively form a people's movement to face future challenges pertaining to democracy. It doesn't mean that two parties become one because we are on two paths. Going by their response they wanted us to join them under National People's Power (NPP) banner and contest the upcoming elections. Our party doesn't want to contest under the NPP at this election.

Q As a political party how do you respond to the controversial statement made by Karuna?
We feel that there is a threat to the society. When Karuna speaks to the Tamil community he thinks that killing 2000 to 3000 soldiers would attract the Tamil community and give him an advantage. On the other hand the former army officers who are contesting this election are also making use of Karuna's statement for their own advantage on ethnic lines. The problem arises not with the person or persons who utter such statements. The real problem lies with the fact as to why they say so. What manifests here is that Tamil racism is still considerably strong and so is Sinhala racism. This is the threat we are considering as a party. This is a clear indication that racism is deeply rooted in society. What we are trying to address is what lies underneath. I am of the opinion that we should be more alert on racism and should try to eradicate it. After this election we intend to rally against racism.

Q Even though your vision and principles are attractive your party has failed to attract the masses and garner votes. Not a single seat was secured at the last election. What can you say about this issue?
The political consciousness of the society has deteriorated over time. For instance, one of the views that stemmed from the society regarding the recent anti-American protest held on June 9 by FSP was why one should bother about issues in the United States. Even the premier himself had posted on social media as to why we should protest over an issue that occurred somewhere else. In the 1960's when Patrice Lumumba was assassinated there had been many protests in Sri Lanka too. But at that time nobody questioned why one should protest over what had happened in the Congo. The political consciousness was high because the leftist movement at the time was powerful. Currently the JVP is lenient towards the current ongoing issues, but we as a party are trying to publicise what is right. We don't always embrace what seems popular right now, but we embrace what is right. This path is harsh. It does not mean that people in Sri Lanka didn't embrace leftist movements . In 1935 after the Lanka Sama Samaja party was formed it was the largest Trotskyite party in the world. The places such as Deraniyagala, Ruwanwella, Avissawella and Yatiyanthota were focal points of the leftists (Rathu Balakotu). After the communist party was formed, Matara and Matugama were also focal points (Rathu Balakotu). After the Communist Party joined the Sri Lanka Freedom Party (SLFP), people lost trust in the communist party too. And two insurrections in 1970's and 1980's should also be noted. The trust that was breached for 85 years has to be built now. As a party FSP is trying to mend damages to that trust, but it is not possible with mere words. We cannot just say Sama Samaja Party, Communist Party and JVP collapsed. We formed this party to show what is right in practice, but not merely in words. There might be some sections of the society who have understood what we are trying to do. Considering the betrayals and collapses of the leftist parties in the Sri Lankan political history within an 85-year-period, we have a long way to go towards securing people's trust. With patience we have started that political journey.

There is self-criticism as well.It is true that we are confident of what we mention. You say that our vision and principles are attractive, but still we have not been able to interpret our ideas to an average person according to his or her level of understanding. We need to rectify that. In many instances for people's movements the public rally around us but they don't cast their vote for FSP. For instance many workers who have been stranded in Middle East and who complained of government's inaction in repatriating them contacted us and we formed a particular movement to address the issue. Thus people used to reach us irrespective of party differences. But when it comes to an election people do not vote for us. It is not always political principles that matter to Sri Lankans compared to some countries whose people go through principles of the party when casting their vote. When someone is asked about politics, they would deny both SLPP and UNP while complaining about them. But they still cast their vote for them. This is anthropological in terms how people cast their vote. This also has to be closely observed. They cast their vote based on many factors. There is a limitation in the political field and we also have certain drawbacks as I mentioned earlier. We should choose the political representatives for the parliament not solely based on whether they are good or bad. This is a structural issue.

Q There are major allegations that the activities of Inter-university Students Federation, which is affiliated to your party, is hampering the education of university students with regular protests which hamper the education of poor children who are mostly from the rural sector. Also IUSF is responsible for ragging by engaging in ragging which has become a deadly menace? Your response.
Student movements were not formed in keeping with our party traditions. They can be dated back to 1940's. The way they organise themselves and certain aspects in their culture were developed over a period of time. But there are certain aspects that we accept in student politics. There is no such alleged affiliation between FSP and IUSF.
IUSF is formed through student unions. Student unions are formed through an election of office bearers. When they elect members for the student union, political views or interests of members are not taken into consideration. Members are elected to represent the students or voice students' issues in universities. And members who are interested in FSP political views also represent themselves in student unions through their own will. These members are elected not because they solely agreed to our party policies. They may not fully support or vote for us as a party, but they might join hands during certain struggles. It does not mean that we have total control over their student unions. We don't support ragging. We totally reject it when someone claims that we influence the unions to maintain our party politics.

We have failed in determining the best options to provide solutions to students' issues. Despite all that, we are still trying to make a positive impact on university issues. When talking about ragging, it is true that we need to change the ragging culture. Ragging is not only prevalent in universities, but also in other places. Social prejudices are connected to ragging. We do not entirely reject the university culture, but we want to choose what is good.
Nowadays the culture of ragging has degenerated. What we suggest is to totally wipe out ragging. But we have been unable to provide a proper option for ragging. The society is such that it does not give up an existing culture unless there is a better culture or tradition.