---
Attack on SLFP is nothing but tussle for preferential votes

It is undemocratic to run PCs under nine governors without elected representatives

One should take advantage of being a Rajapaksa or vice versa

Founder of Sri Lanka Podujana Eksath Peramuna (SLPP) Basil Rajapaksa, in an interview with the Daily Mirror, responds to queries about the nomination of a large number of Rajapaksas to contest the elections, post pandemic economic challenges and his future role as a non-parliamentarian. Excerpts:

Q You spearheaded the task force dealing with economic activities during the pandemic. How challenging is to ensure economic recovery?
It will be more challenging than saving lives from the pandemic. It was a challenge for us to save lives from the pandemic. But, it is more challenging to improve livelihood activities of people. We have to face it locally and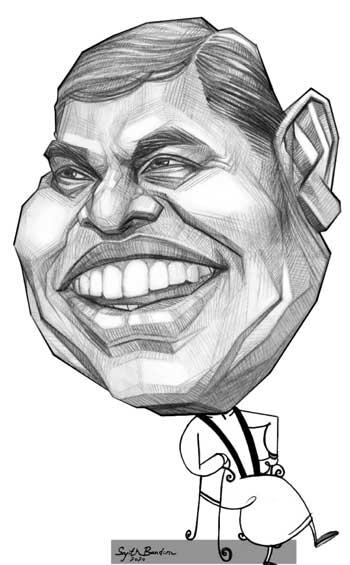 internationally. Tourism is one key foreign exchange earner for us. The industry is down with no sign of recovery in sight. We may reopen the airport, yet, who is there to come? People cannot travel from the countries such as India, China, Germany and the UK. These are the largest source markets for us. We cannot count on tourism to earn foreign exchange at least for another six months. Foreign countries are not stable enough to employ our migrant workers. So, we cannot rely on remittance from them.

We achieved 'V' shaped recovery in the export sector. Export revenue dropped in March to US$ 200 million, but improved dramatically to US$ 900 million in June. We should respect the apparel manufacturers because they adapted to the new environment sooner than expected.

Q What are the plans you have in store to resuscitate the economy, if your party forms the government after the elections?
It is difficult to explain how we do it in a crisis situation like pandemic or war. It is even inappropriate to do it. We will overcome the challenge, though.

Q The country is in a debt crisis. How are we going to finance debt servicing for this year when there is a foreign exchange crisis?
We continue with debt servicing. There won't be any default. People may have to make certain sacrifices. Work, work and work. That is the solution. We need to improve productivity.

Q UNP leader Ranil Wickremesinghe is critical of the status of economy. He says the government has no plans for economic recovery. How do you respond to this?
Ranil Wickremesinghe is the least eligible person to criticize the status of economy. A farmer or a labourer has better rights than him to talk about economy. If someone writes a book describing how an economy was destroyed within the least possible time, Mr. Wickremesinghe should be assigned to edit it. During his time, we had a Balance of Payment crisis. Our debt component increased. Unemployment rose, and the growth rate declined continuously. Our production base suffered. People saw their debt burden increased.

Q You had experience in post-war economic rebuilding after 2009. A similar challenge is now before the country. How do you see the difference?
Post war economic rebuilding depended on locally-made decisions. The decision makers acted upon local factors. It is a different situation now.

Q Import restrictions affected the economic activities. How do you address these concerns?
We have to do utilize our foreign exchange resources for key requirements at this hour. One is for debt servicing. Secondly, we need them to import fuel and pharmaceuticals. Finally, we should spend foreign exchange to import raw materials for manufacturing. We proceeded with import controls for three months. Nothing happened merely because we did not import mats from India and brooms from China.

Q What is your overall assessment of the election process?
I can vouch for a record victory for Sri Lanka Podujana Peramuna (SLPP). President Gotabaya Rajapaksa and his government performed so well in saving people's lives from the pandemic. The former government could not even take care of people affected by the Salawa blast, the explosion of the garbage heap in Meetotamulla and the landslide in Aranayake. When people were hit by floods, some leaders were seen distributing only bananas. We did not do it. We distributed Rs.5,000 allowance among the needy families throughout the country without any problem. We had curfew for three months, but no one had any problem in getting food. Vegetables, bread and fish were delivered to doorsteps by mobile vendors. We advertise what we did when canvassing for votes.

Q What kind a victory do you expect?
I cannot say exactly. It will be a record-breaking victory in a multi-party system. In some districts, we will do even better this time than what we did at the presidential elections.

Q But we see a lot of infighting between the SLPP and its alliance partner Sri Lanka Freedom Party (SLFP) in the run up to the elections. Some SLPP members directly ask people not to vote for anyone from the SLFP. Why is it?
It is a competition among the candidates in the fray. This is what we call 'Manapa Poraya' (Tussle for preferential votes). It is natural.

Q But, they ask people not to vote for anyone even with slight connection to the SLFP which is one of your alliance partners. What is your comment?
In seeking preferential votes, some people try to capitalize on their regional, caste, religious and family identities.

Q Won't this infighting affect the party's victory?
Competition is inherent in this present electoral system. For example, according to the law, if nine members are to be elected from a particular district, 12 candidates would be fielded by a party. Then, there is always a competition to include among the nine members.

Q But, some people say that it is a vicious attack targeting former President Maithripala Sirisena. What is your view as the founder and chief organizer of the SLPP?
One cannot interpret it in the similar manner.

Q There is criticism of the inclusion of many members of the Rajapaksa family in the nomination list of various districts. What do you say?
One will get the advantage of being a Rajapaksa. At the same time, one will get the disadvantage of being a Rajapaksa. One can stake a claim for the advantage of being a member of the SLPP. If there is disadvantage of being a SLPP, he/she should take that as well.

Q You talk about a two-thirds majority which is unrealistic under the present electoral system. Why do you say about the 'unrealistic things'?
In 2010, we took 144 members, a little short of two-thirds. I have not talked about it. We only talked about the need to have it. We will inform later whether we would get it or not. Actually, people should decide on it. In fact, people in the north and the east should ensure two-thirds for this government. The Yahapalana government which they supported did not do anything for them. They should get things done by us.

Q People in the north and the east have always asked for Federalism and the merger of the two provinces. It is against the ideological base of your party. How can you grant it?
I don't know about it. It is up to people to decide. Only former President Mahinda Rajapaksa took steps to constitute the northern provincial council and appoint a chief minister. Today, there is no provincial council in the north. Former Chief Minister C.V. Wigneswaran and the TNA should be held responsible for it.

Q There is a debate about the relevance of the provincial council system. The provincial councils have not been in operation since 2017. Isn't this a good chance to review the validity of the system?
I am opposed to the operation of the provincial council system under nine governors without elected representatives. Actually, 60% of the budget is allocated to the provinces. There are around 10,000 schools but only around 300 remain with the central administration. Most hospitals belong to the provincial administrations. Administration has to be done under the supervision of the elected representatives. The operation of them only with the governors is not democratic. This is a phenomenon created by the previous government including the TNA. If the system cannot be restored, it is better to scrap such provincial powers and to be vested with the central government or the local authorities.

Q You don't contest the elections. But, you are the founder of this party. What kind of responsibility do you hold in a future government?
I have proved that one can do politics without being a parliamentarian after 2015. Some people try to emulate what I did. I did it first. It is a model in a successful country. Look at the Communist Party of China. The Chinese government takes decisions, but the CPC plays a pivotal role. The CPC identifies people's issues and directs the government accordingly.

Q It means you have no interest in becoming an MP again...
There is no need. I can do better without being an MP.

Q Does it mean that you took a leaf from the book of the CPC in forming the SLPP?
Yes I did. Also, I looked at the structure of Bharathiya Janatha Party (BJP) in India. These are the closest and best examples that we have in the region. Lotus flower is the BJP symbol. We could not take it since it is a national symbol in Sri Lanka. Instead, we adopted the lotus bud as our symbol.

Q How do you look at the split in the symbol?
It is for advantage. That is a political force lagging far behind us. That is still split. Then, it will increase our number of seats.