---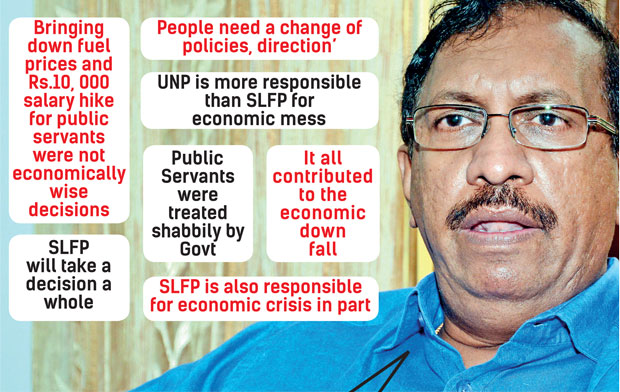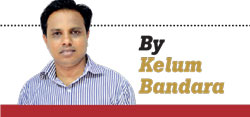 Disaster Management Minister Anura PriyadarshanaYapa, who is a senior member of Sri Lanka Freedom Party (SLFP), speaks about political developments in the wake of a no-confidence motion against Prime Minister Ranil Wickremesinghe.

The Excerpts:
Q As a senior Minister representing Sri Lanka Freedom Party (SLFP), what is your view on the no confidence motion?
This is not against him personally, according to my understanding. After the results of the local polls were announced, the people have voiced their disappointment with the government, its policies and performance. I think people wanted a change of policies and direction. They asked for economic revival. My thinking is that this is an attempt by the opposition to voice the concerns of people. They think the direction is not good. The best option is to try a no confidence motion against the Prime Minister. That is my political understanding.
We will have to understand that there are lots of reasons for it. People always have expectations. They have lost hope now. Who is to take the responsibility? That is the question to be raised next.
Q The SLFP is part and parcel of this government; in fact, the Head of State is from the SLFP and your party held key ministerial portfolios. Don't you think that the SLFP is also responsible for the current economic mess which you referred to?
We are partly responsible, I agree to that. But, we are not solely responsible. The important Ministries, such as the ones dealing with economic affairs and investment, were vested with the United National Party (UNP). I am not going to put the blame on them entirely. As a whole, they are more responsible than us. They hold those key ministries - Finance, Investment Promotion, Economic Development etc. That is the reason.
Q From your perspective, what are the wrongful decisions taken as far as the economy is concerned?
There was a system ongoing regarding the economic development during the term of the last regime. There were criticisms against them regarding the nature of economic development being implemented. This government came and stopped the development momentum. They could not restart. The rhythm of development was gone. They could have allowed the development process to go on and found the areas to be corrected. Instead of doing it, they stopped all development works on the assumption that everything was corrupt. It cannot be like that. On the other hand, they have taken some decisions not healthy for a developing economy like ours.
Q What do you mean by that?
They immediately brought down fuel prices by a sizeable margin. Also, they increased the salaries of public servants by Rs.10,000. They could have done it in a phased out manner. It dented the economy. Thirdly, we should have been involved in getting small and medium scale investment to the country. It did not happen because there were huge delays in decision making. In fact, decision making was very poor. The other thing is public service. Most of the senior public servants were treated shabbily by the government.
They were hauled before special investigative units. It completely eroded the confidence of public servants. Decision making in the country is very slow as a result. No-one is prepared to take decisions in fear of repercussions. It all contributed to the downfall of economy. That is my view. It is one thing to find a person or persons involved in wrongdoing. It is another thing to consider all of them as a thieving lot. You cannot run a government like this. You have to take decisions, be it right or wrong. Decisions may sometimes go wrong. Where is the cover for them? Who is there to look after them if their decisions go wrong? I am referring to bona fide decisions, not mala fide decisions. There is no protection for them in such a situation. That is what happened under this government.
Q What is the SLFP's decision on the no confidence motion?
The SLFP will decide unanimously. It will be a collective decision. We will not take individual decisions.
Q Have you discussed this matter?
There were a lot of discussions. There are some ideas which were exchanged. Beyond that, if we are to support the motion, we will do it as a party, not as individuals.
Q What is the general mood of the party?
As you have seen, the SLFP members who signed the no confidence motion reflect the mood of the party.
Q But, no SLFP Minister has placed the signature. Why is it?
I do not think the Ministers can do it. If the Ministers were to resign, they should have resigned and signed.
Q The President is from the SLFP. If the SLFP wants to remove the Prime Minister, the President can act in this regard rather than bringing a no confidence motion. Why didn't that happen?
Don't involve the President here! He is the leader of the party. We are a democratic party.
Q In Sri Lanka, as far as the party politics are concerned, the decisions by the leaders prevail in most cases. Why is there any difference this time?
It is not the case on this matter. This is a special occasion. The SLFP takes decisions after discussing among its members when it comes to issues of parliamentarians. When it comes to other issues, we discussed it with the Central Committee. We will take the appropriate decision.
Q What will be the next step if the no confidence motion succeeds?
Then, it is up to the President to take decisions. As the Head of State, he has to decide what could be the next move.
Q You have any personal suggestion for premiership?
I have no suggestion regarding any person.
Q As a senior SLFP Minister, how do you see your experience in governing together with the UNP?
There is very slow progress actually. As a SLFP Minister, I would like to see the country progressing economically and socially. Those two things are very important. I have been a Minister in three governments. Economic development is the key area where we have to put our fullest possible effort. After the war, everyone wanted to see a development in the country. We have a young, robust population. They are very educated. Along with economic development, there should be fair play. It is a vital aspect. It has been a political debate for a long time. It is equally important to control corruption. These are the aspirations of young people. I cannot think of any country being able to eradicate
corruption totally.

Yet, there has to be methodology to curb corruption by taking appropriate measures. I am not merely talking about remanding those indulging in corruption and bringing them before law. I do not say it will serve the purpose. It has its own merits for sure. There must be futuristic, transparent systems. They are adopted in other countries. Young people are urging for that. I do not see that it has taken place in the country.

Q What is the future of SLFP under the current circumstances?
The future of the SLFP is very good. My humble wish is that these two factions should be united.

Q One faction is now in the opposition. There is one faction in the government. You also belong to it. The faction in the opposition now functions under the Lotus Bud symbol. Do you want the two factions to be under that symbol or under the symbol of the SLFP?
That depends on how the political situation develops in the country. I cannot say we are joining hands with them or they are joining us. It is a rational question. You have to wait for the last moment to see the answer. I am visualizing a situation where the SLFP is getting united.

The SLFP is a party with a large vote base. It is the largest political party in the country. It has produced very good leaders. Our leadership ladder is very broad even today. We have a great ladder. It is a party no one can destroy. We have temporary issues. It is something different. I think these temporary issues can be resolved very soon. We will get united. We will decide what to do.
Q How do you look to the next Presidential Election?
It is too early to comment. We have to wait for these developments to take place.
Q Are you positively adopting the election?
Yes.
Q When it comes to the subjects of your ministry, what are your plans for disaster mitigation?
It is a key area where we have to take action. It is not an easy thing, though. It is because of unpredictability of rain pattern. Last year, we had rain and floods in one area and drought in another area. We have to educate people. Land use pattern is very important. Preserving water is quite essential. Looking after tanks and rehabilitating them are urgently needed.
Q Actually, you promised to enact certain legislations to deal with disaster management. How is the progress now?
I have done that. They are pending with the Legal Draftsman's Department.
Q You promised legislation to prevent constructions in river basin areas. What is the progress?
That is the prerogative of other Ministers. We only put the Cabinet papers. We need to keep special corridors, bunts in such areas. Also, we need to prevent excessive sand mining in rivers. Our forest areas have to be protected.