---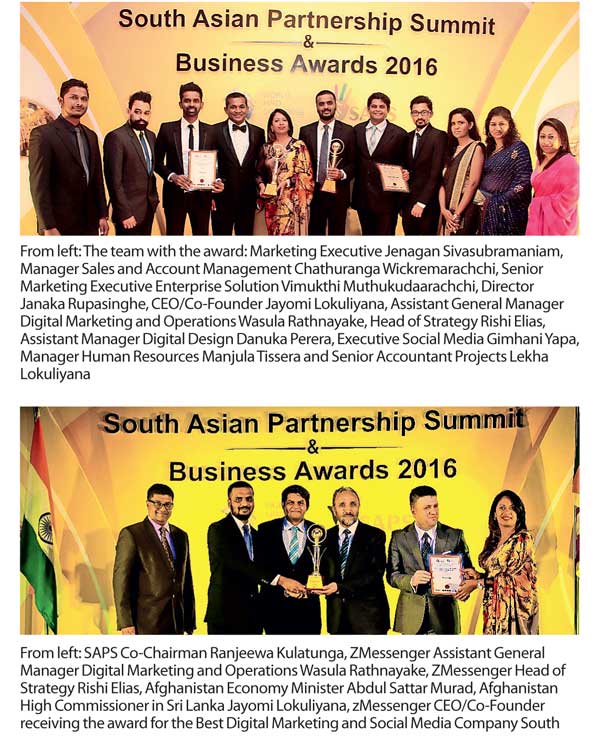 zMessenger, a locally headquartered leader in integrated digital marketing, has been awarded the 'Best Digital Marketing and Social Media Company South Asia' at the South Asian Partnership Summit (SAPS) & Business Awards, presented at a gala dinner held at Waters Edge recently.

The SAPS Business Awards honour and celebrate business organisations across the South Asian region that are working cohesively towards strengthening and increasing business opportunities, while discovering new untapped sources for revenue generation. The award ceremony was attended by business leaders and executives representing eight South Asian countries.

With over 13 years of experience in the planning, creation and execution of effective digital marketing strategies, branded community applications and content distribution strategies in Sri Lanka, zMessenger was recognized for its commitment in steadily transforming the digital marketing landscape of Sri Lanka, empowering local organisations to keep up with the rapid pace of evolution witnessed around the world.

zMessenger leverages efficient and innovative digital expertise to create cutting-edge IT-enabled business solutions and mobile strategies across a vast range of industries covering banking and financial institutions, FMCG, manufacturing, real estate, mass media, government and aviation. The company's key differentiator is the dedicated research into understanding the exact requirement of the target audience, thereby utilizing its specialized skill set to achieve highly effective digital transformation across companies.

A client base that includes the country's top organisations such as Unilever, Chevron, Sunshine Holdings, Johnson & Johnsons, Commercial Credit and Seven Seas among many others, affirms zMessenger's commitment to the best result generating services.
"It is not just a digital marketing strategy that we create for our customers. We enable them to create their own digital footprint, infusing innovation and new thinking, to make their presence felt in a digitally connected world," commented zMessenger CEO/Co-Founder Jayomi Lokuliyana.
"We are extremely thrilled to be recognized at the South Asian Partnership Summit with this award. This accolade establishes the fact that we are trailblazing ahead with our solutions and encourages us to pursue new, exciting ideas to provide our customers with more effective digital solutions."