---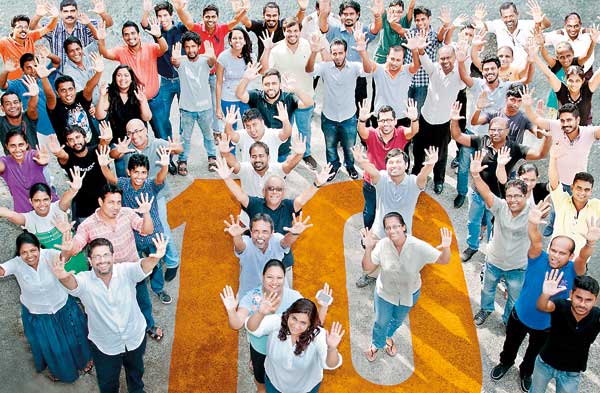 Praised for their effectiveness and awarded for their creativity, Sarva Integrated recently celebrated ten successful years in the advertising business.
The year marks a significant milestone in the agency's star-studded history as it began with a string of awards both locally and internationally, winning the title of 'Most Effective Agency of the Year' at the 2015 Effie Awards and going on to shine at the Creative Abby Awards at Goafest 2015.
While their work for Daily Mirror for Media Freedom Day 2014 received a much sought after Gold Abby, the agency was also recognized with a Bronze for their work with the Sri Lankan Eye Donation Society, which also received a Silver at the 2015 Effie Awards. Sarva Integrated's sparkling success rate in the few recent months can only be attributed to its singular aim of producing effective advertising.
"Ten years ago we started as a small 05 man operation with a determination to make a difference. At that time the agency culture was all about "creativity" and "winning awards". We wanted to swim against the tide and focus on "winning market share via effective advertising". To do so we had to reprogram the normal creative process and use research heavily to ensure that our creative ideas stemmed from customer insight and was relevant to the local audiences. Which also meant 99 percent of our work was developed in Sinhalese or Tamil. We seemed to have done something right because we are blessed to be considered a top agency today" Said Chrishantha Jayasinghe more commonly known as "cj" the Managing Director of Sarva Integrated.
With a strong team of over 70 players, Sarva Integrated has created a name for themselves by consistently producing 360 degree communication campaigns that are driven by locally generated insights and strike a chord in the hearts and minds of the Sri Lankan consumer. The overwhelming success rate in the few recent months have been a testimony to Sarva Integrated's unique ability to conceptualize in the language of the local consumer; be it Sinhala, Tamil or English.
Powered by an extensive portfolio of clients such as Lanka Bell, DIMO, Union Assurance, Triumph International, NDB Investment Bank, Pan Asia Bank, Darley Butler (BIC, Denta),Chevron Lubricants Lanka, and many others, Sarva Integrated is well on their way to proving to the world that effective advertising is the only advertising worth paying for.