---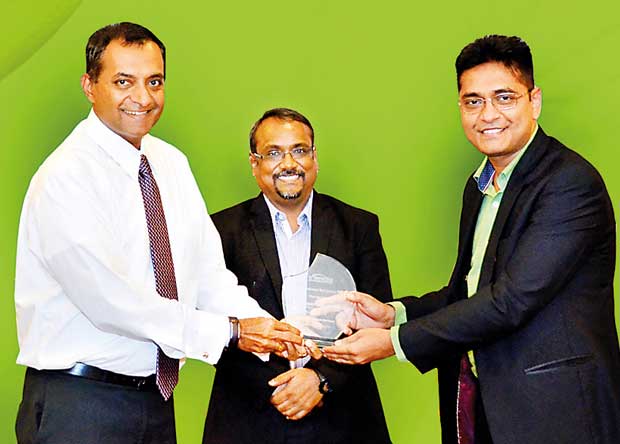 Chairman of hSenid Software International, Dinesh Saparamadu awarding Sunil Lohan from Online24X7 India for the most self-reliant partner

hSenid hosted a Partner Conference in Sri Lanka recently. This was a gathering of all the Indian channel partners out of the strong and vast partner network, operating from multiple regions- APAC, Africa, Middle East and, South and East Asia.

This was to capture immediate opportunities and position them for future growth. Partners who achieved exceptional success over the past year were also recognized and awarded. The conference was a multifaceted and hands-on partner event with 12 partners down from India.

The session included discussing the impressive growth figures, future strategies, importance of international partners and market potentiality in India as a part of its on-going expansion. Moreover, the conference walked through the product roadmap as well.

hSenid Business Solutions recognised three of their valued partners for their outstanding achievements drawn from the company during the year 2015 for being the Fastest Growing partner, for being the Maximum Revenue Partner and for being the most Self- reliant Partner.

"I would like to congratulate this year's winners and personally thank every one of our partners for their continued dedication and commitment. hSenid's growth and success could not have been achieved without the partnership of all of our resellers and distributors working together with us" said Sampath Jayasundara, CEO of hSenid Business Solutions.

The partners had a breakout session which gave the opportunity to have a 1 to 1 discussion on the product. This session allowed them to provide feedbacks on improvement of the products and services. Several other sessions took place which were providing an overview of hSenid's latest platform, JURAA.

JURAA is an Enterprise Social Network (ESN) developed with the aim of boosting business productivity, knowledge management processes and employee management. Anuj Gupta, Chief Strategy Officer at hSenid Business Solutions India adds "JURAA plays an important role in achieving a competitive edge. When JURAA is integrated into organisations, it helps flatten hierarchies and boost efficiency and agility." An introduction was given on the revamped hSenid Partner Portal which is developed to expand operations in multiple regions, maintained to boost partner engagement and network among the global partners and, providing easy access of information and support materials just by logging in. The COO, Pradeep Agarwal of hSenid Business Solutions, India says "hSenid's partner programs, tools and resources will enable partners to grow by competing more effectively in key markets, while optimising the efficiency of their business."

The conference wrapped up with the partners meeting with all the supporting teams at hSenid.
hSenid Business Solutions is a premier Human Resources Information Systems solution provider; specializing in holistic human resource applications both on premise and cloud based, HR services outsourcing and software development.