---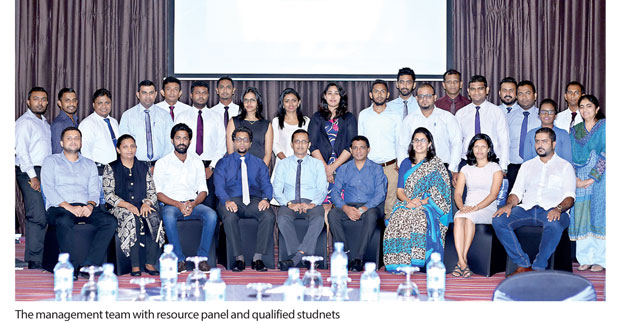 As an educational institution that offers professional qualifications and training in the field of digital marketing, eBusiness Academy was initiated in the year 2009 and recently announced an official change of name and is now called the Asia Pacific Institute of Digital Marketing or APIDM.

This change of name marks an important milestone for the academy as it completes its eight successful year as one of the pioneering institutes in Sri Lanka that offers a range of professional qualifications in the fields of eMarketing, eCommerce and Social Media Marketing.

The academy unveiled its new name and logo in an event that was held at OZO Colombo on August 29th. The re-launching event of eBusiness Academy was inaugurated by the lighting of the oil lamp followed by the unveiling of the new name and website by the Co-founder of APIDM and head of Neo Ogilvy, Amitha Amarasinghe and Ragulan Tharamakulasingham, the Co-founder and Director of APIDM. In his speech, Amitha Amarasinghe announced that APIDM will soon spread its wings to other countries such as Vietnam, Maldives and Cambodia by offering professional courses in Digital Marketing, and consequently, the change in brand name gives the institute an appropriate geographical context. Participants of the Certificate in Digital Marketing and Professional Diploma in Digital Marketing courses were awarded their respective certificates during the course of the event as the well. eBusiness Academy has successfully conducted more than 15 training workshops in Search Engine Optimization, Digital Marketing and Social Media Marketing.

The workshops have been attended by more than 1500 participants and since 2012.

The institute has successfully conducted more than 15 training workshops in digital marketing, search engine optimization and social media marketing within its first six years of operations and the workshops have been attended by more than 1500 participants. The institute has been offering certification programmes in the field of emarketing since 2012.

The name change reflects the recognition of the institute, and has further strengthened the mission statement and tagline of APIDM. Furthermore, it also reflects the culture and educational model of the institute that is dedicated to unleash the potential and expand the skills of individuals in order to prepare them for a world of possibilities in the field of digital marketing.

APIDM is spearheaded by three leading eMarketing professionals in Sri Lanka who has a combined experience of over 25 years between them. Possessing the best team of resource persons in the region for digital marketing training, APIDM offers professional certification courses and corporate training workshop modules that are designed for both, beginners and experienced digital marketers. The re-branding of the institute accurately highlights the standards of APIDM and the advantages that students receive from participating in the courses.