---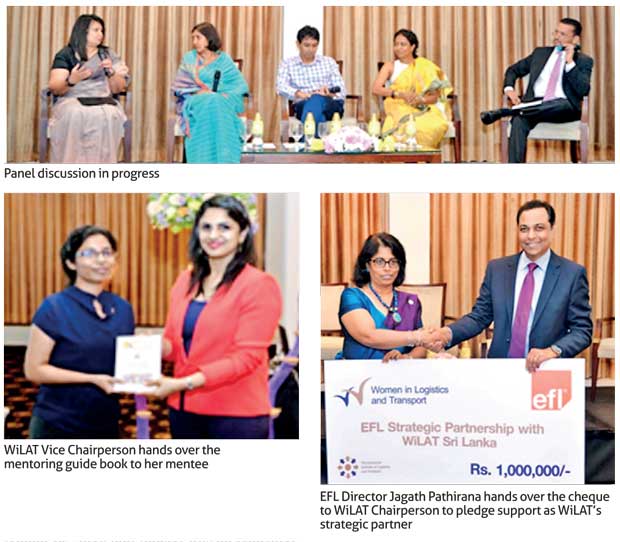 Women in Logistics and Transport (WiLAT) Sri Lanka celebrated their second anniversary of its flagship mentoring event recently at The Kingsbury Colombo with a panel discussion consisting of eminent speakers from an array
of industries.
Namely, CBL Group Group Managing Director Shea Wickramasingha, Asia Pacific Brewery (Lanka) Limited Managing Director Dusty Alahakoon, Hemas Holdings PLC Managing Director Hemas Pharmaceuticals and Hemas Logistics and Maritime Sector Kasturi Wilson and Hatton National Bank Chief Human Resource Officer Chiranthi Cooray. Cooray was also the keynote speaker.
WiLAT Sri Lanka Chairperson Gayani De Alwis in her welcome address highlighted the audience on the objective of the Ignite mentoring programme. She stated, "Ignite was launched with the aim of developing and supporting young professionals and undergraduates to harness their true potential by providing learning and development opportunities and one to one engagement with experienced mentors from the industry."
She was happy to remind the audience that WiLAT Sri Lanka pioneered mentoring in the WiLAT World and her role as WiLAT Global Coordinator for Mentorship helped to bring the local initiative to global stage and now this initiative is launched in four WiLAT countries. She thanked WiLAT Vice Chairperson Niroza Gazzali for taking the lead to organise this colourful event. Cooray, in her keynote speech stated, "Women need a lot of support to excel in the corporate world against the many emotional barriers one may face in their day-to-day life. Hence organisations should come up with suitable policies and frameworks to support women in general. Every woman respect and trust that change begins within."
She further stated that mentoring is very essential for not only women but also men as it enables one to shape and fast-track their career and indeed the ultimate outcome of a mentoring initiative should be a fruitful and rewarding experience for both mentor and mentee.
The keynote speech was followed by a panel discussion and a Q&A session moderated by Kumar de Silva and indeed was an educative session which gave insights into the audience on the essence of mentoring, the process and how to carry out an effective professional mentor-mentee relationship.
The speakers of the evening emphasized the importance of a mentoring programme for young females in the industry and appreciated the efforts of WiLAT Sri Lanka for launching the mentoring programme, Ignite.
The audience was then entertained to an Acapela performance by Sincatelle, a growing all-female singing group in Sri Lanka.
At this year's Ignite event 20 mentees were enrolled under 12 mentors. Guide book on mentoring was also shared with the mentees. To conclude the day's proceedings the selected mentees and mentors for the year 2016/17 were announced and they pledged their support by lighting the custom-made Ignite lamp.
The event also saw EFL once again pledging support for WiLAT with Rs.1 million sponsorship as a strategic partner for the second successive year. The cheque was handed over to WiLAT Chairperson by EFL Director/CEO Jagath Pathirana.WiLAT Sri Lanka is the women's body of the Charted Institute of Logistics and Transport (CILT) Sri Lanka and is growing from strength to strength ever since its formation in 2013. Globally WiLAT is present in 18 countries with over 1600 members in four continents. Mentorship is one of the key strategic thrusts of WiLAT globally.