---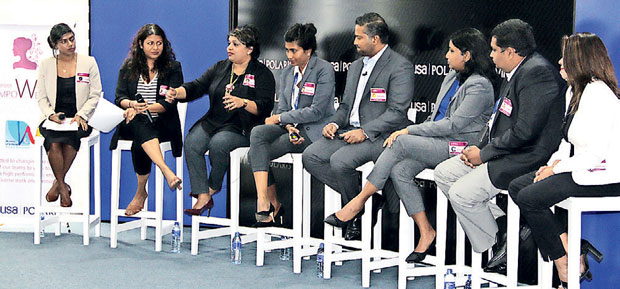 From left: Anjali De Zoysa, Senior Consultant –VirtusaPolaris; Anjali Thalayasingam, Associate Director – VirtusaPolaris; Chinthi Weerasinghe, Vice President – VirtusaPolaris; Chandi Dharmaratne, Senior Director – VirtusaPolaris; Yohann De Zoysa, Director – Associated Motorways (AMW); Shehani Seneviratne, Chief Operating Officer – 99x Technology; Sanjeev Palihawadana, Vice President – VirtusaPolaris; and Sharmila Bandara, Marketing Director - Personal Care at Unilever Sri Lanka
VirtusaPolaris organized a panel discussion on 'leadership & gender - breaking the norm' in commemoration of Women's day to empower women to take charge and achieve their career goals.
The moderated discussion, which took place at the VirtusaPolaris auditorium in front of a packed crowd of eager young minds from university and industry, touched upon several challenges faced by women in the workplace.
The panelists, using personal experiences, their unique perspectives and their own philosophy, communicated how they had tackled such situations in the past and what the way forward is for women seeking a career path. Each panelist brought a unique insight to situations that could be common in
any industry.
Sharmila Bandara, Marketing Director - Personal Care at Unilever Sri Lanka, who began her career with the consumer goods giant in 1999 in the management training program and worked across several of the company's iconic brands as well as in different countries, explained that gender roles are not set in stone. Using her own life as an example she explained that women pursuing their goals should stay true to themselves and not try to emulate men in the workplace.
"I think the biggest barrier for women to attain leadership roles is women ourselves. Because we are hesitant to accept the unique qualities we bring to the table thinking they are liabilities. We don't need to compete with men by doing the same thing they do. We are blessed with a different set of skills and competencies and we need to see how we can leverage them to deliver on our targets," she said.
Sharing his thoughts on the subject Yohann De Zoysa, Director – Associated Motorways (AMW), explains that he believes many of the women he has worked with will be future leaders but they need to be given the opportunity to showcase their talent. "As corporates we need to make the decision making process more inclusive. At our company we have a very young team of business analysts – in their early twenties – who are now giving their opinions at board and director level because we go and ask. This allows them to shine. I believe that corporates take talent into account not genderand when people are allowed to showcase their talents I really believe we'll see more diversity in the future," he said.
Shehani Seneviratne, Chief Operating Officer – 99x Technology, who joined the company in 2003 following a tough decision in which she had to choose between her career and her family but ultimately managed to find a balance, shared her views on leadership as well.
"While there is no discrimination in our career progression process and we do encourage women to seek higher roles we have noticed that there is a small setback in women reaching these senior leadership levels. It's not a question of competency but it can be one of perception where they feel like they're not ready to take on these roles within the company. All I can say to that is that you need to get out of your comfort zone and accept the challenge that's the only way you will better yourself," she said.
The panel then moved on to the discussion of gender diversity in the boardroom. At the current rate of inclusion it would take 40 years to reach gender parity in the boardroom unless proactive action is taken.
Chinthi Weerasinghe, Vice President and Global Head of Sales for VirtusaPolaris' Independent Validation Services practice, has been with the tech firm since 1999 and seen it grow, explains that women need to first of all be empowered and then shift their mindset.They need to understand that the roles they play, be it daughter, wife, or mother, are merely parts of their life as is their career and each part can be successful without the other having to suffer. And then she touched upon the unconscious discrimination that unknowingly plagues our perceptions. "There's an unconscious bias even among us women that clouds our perceptions. Sometimes we women take a backseat. When we are about to get married we stop everything and focus on personal matters – even five years before we have our first kid – when we should be focusing on our work. If you want to succeed you have to be ever present, ever on the job. If you've taken on a responsibility then lean in and be your utmost best. Don't take your foot off the pedal until you have to,"
she said.
Continuing on the subject Sanjeev Palihawadana, Vice President and head of Delivery for Colombo - VirtusaPolaris whohas been in the IT industry for 18 years and credits two female bosses for having a profound impact on his career, explains the issue might need to be tackled at an early age. "Socially and culturally we have a way to go. I think it starts off with toddlers and the way we treat each gender differently at that age. We give the boys Lego sets and thegirls dolls. Subconsciously we are telling the girls that they should take a backseat and constrain themselves to the home whereas we are inspiring the boys to be more active and career oriented. I think everything starts then. Babies are not born with preconceived notions or gender stereotypes it is something they are
taught," he said.
In her closing remarks Chandi Dharmaratne, Senior Director – Human Resources at VirtusaPolaris, an economics and business management graduate, renowned for her expertise in the field of HR, imparted a few words of wisdom to
the audience.
"Your degree is merely a passport to enter the corporate sector but what you do once you are inside is up to you. The other skills you have will either lift you up or drag you down. So, it is important that during university, and even after you come in, to figure out and develop those other skills. The key is commitment, dedication and hard work – there is nothing that can replace the amount of hard work you put in," she concluded.