---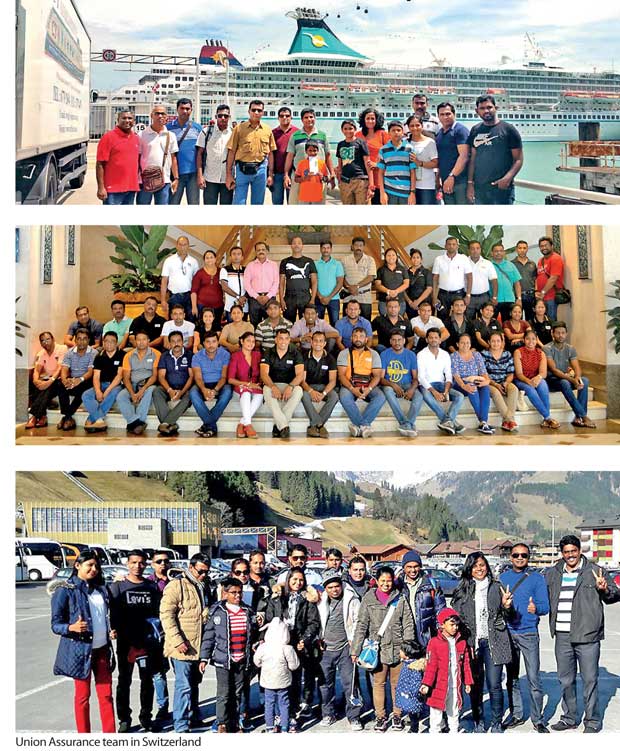 Union Assurance has provided high standards of service and has continued to deliver unparalleled insurance solutions. This has been made possible by the strength of a committed team that is willing to give out the best.
Being in the industry for 30 years, Union Assurance has always continued to have a performance-based culture and believes in investing in its people for their development and to recognize their achievements.
As a result, the company annually rewards the best performers with an overseas tour, giving them a lifetime experience. Hundred and fifty nine top performers, based on their achievements in the year 2016, were entitled for the annual foreign tour.
The top 20 performers were enlisted to visit Switzerland and the second team of 15 members was able to experience a unique cruise journey in Singapore. The remaining 94 performers headed to Malaysia.
Each team had the opportunity to visit the main tourist attractions of these countries. This was a lifetime opportunity for its top performers and it was also a unique and awesome experience for them to witness the different cultures and places of historical importance.
Union Assurance being named as a 'Great Place to Work,' for the fourth consecutive year, actively fosters this environment with a company-wide learning culture and collective vision to be the most sought-after provider of insurance solutions in the country.
The company is anchored by a team of experienced and dynamic professionals and is backed by a strong capital base and reinsurance partnerships with highly rated global reinsurers. With these strong networks of partnerships, Union Assurance has always made its efforts to bring forth the convenience and quality of service to its customers.