---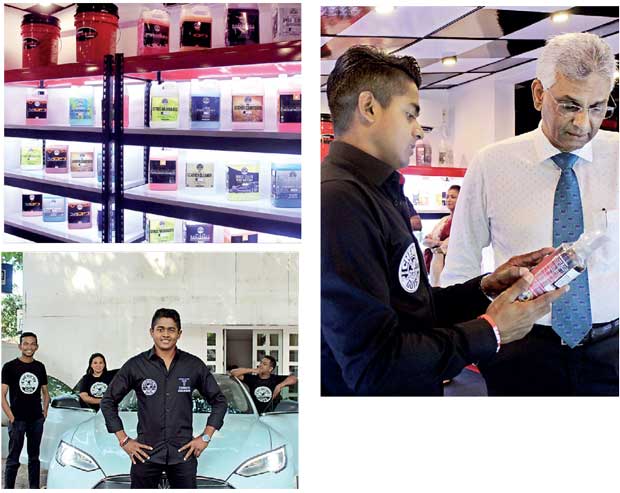 Tsemach Global Automotive, the detailing studio that revolutionized how you take care of your vehicle, recently introduced the world-renowned professional automotive detailing supplies brand Chemical Guys to Sri Lankan vehicle enthusiasts.
The state-of the-art product store was opened recently at Gregory's Road, Colombo 7.
Run by an ardent vehicle enthusiast and detailing promoter Ayesh Wickremasinghe, the store stocks a wide range of Chemical Guys car care products and professional detailing accessories. Being a hands-on kind of guy, Ayesh personally assists all his customers and makes recommendations based on the vehicle type, usage patterns and lifestyle of the driver/owner. Among some of the high profile clients (vehicles in this case!) that Ayesh services includes the likes of a Jaguar XJ, Mercedes S500e, Mercedes S400, Mercedes S300 and the American muscles such as the Cadillac Escalade, Dodge Challenger and Charger among many others.
Speaking at the opening Ayesh Explains, "Tsemach is not your typical detail garage. What we provide is tailor-made vehicle services. Many people in Sri Lanka have still not picked up on what detailing is all about and the importance of it for one's vehicle. With Tsemach and Chemical Guys we hope to revolutionize how people treat their vehicles, more like making it a life style."
Tsemach Global commenced operations in early 2016 as a detailing vehicle salon. At the same time Ayeshbegan researching in to vehicle detailing globally and stumbled on to an interesting website for 'Chemical Guys', a world-renowned brand for auto detailing. Finding out that the founders of Chemical Guys shared his same passion for maintaining a vehicle and the process of care that goes in to it, Ayesh found himself in contact with Chemical Guys and early this year was invited to train with them.
The week-long training programme was conducted by none other than the founder of Chemical Guys himself, Paul Schneider. As a result of the training, Ayesh is now the sole agent and distributor for Chemical Guys merchandise in Sri Lanka.
Speaking further Ayesh also notes, "The ultimate goal for Tsemach and Chemical Guys is to create a culture where owners begin to value their vehicles and give them the right kind of treatment which in turn ensures longevity, a lifelong relationship with your vehicle, and a guaranteed higher resale value for those who wish to upgrade their drive with the times."
Over the last two years that Tsemach has been in operation much of Ayesh's loyal clientele has expanded via word of mouth. "A happy customer is as good marketing as you can ask for especially in a small city like Colombo. Word travels so fast and as long as consistency and quality is maintained people keep coming back. This is what has worked for Tsemach and of course a whole lot of God's grace".