---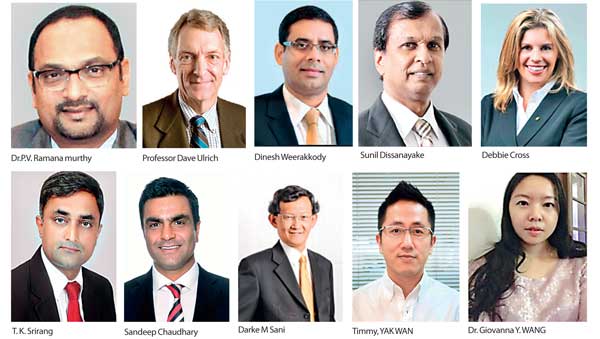 Key policy makers, HR Professionals, academia, trade union leaders, and business leaders in Sri Lanka will have the opportunity to listen to several top seasoned HR Experts, including the undisputed global guru of HR – Professor Dave Ulrich', Via Video Link from the US on August 12th.

Professor Ulrich will talk about why the government, industry, trade union, and academia must work together to build a national human capital agenda for the future and the way forward. Dr. P. V. Ramana Murthy Senior. Vice President and Global Head - Human Resources at the Taj Group, one of the most respected HR Professionals in the region, will do a key note "Building a talent pipeline for the tourism sector the Indian Experience".
Tourism Industry Veteran and HR specialist Sunil Dissanayake and Debbie Cross - VP, Human Resource, Shangri-La Group will speak of the talent challenges facing the tourism industry and how global companies are addressing some of the those HR challenges. Cross is currently based at the Corporate Office in Dubai. Responsible for a region of Hotels in North America, Europe, Middle East, and India and South Asia, she has been instrumental in the opening of Shangri-La Resort Hambantota. Ceylon Hotel school Chairman Sunil Dissanayake has held several senior management positions in large private sector entities in Sri Lanka and abroad in Human Resources Management and also held many advisory positions in Human Resources in the Hotel industry.

Darke M Sani the Group Chief HR Officer of the Axiata Group and T. K. Srirang HR Chief and Senior General Manager, ICICI Bank India will speak of the opportunities in the services sector and how the industry must gear up to build capacity . Sani leads the Axiata Group,HR which has operations providing telecommunication services in 6 countries and has 26,000 employees. Sani has held several senior positions in multinational companies and large local companies including as Managing Director of South East Asia and India of Apple. Srirang heads the Human Resources function for ICICI Bank Group. He has worked for Coca-Cola India, Ford India, ICI India. Heis credited for successfully completingthe HR integration of Sangli Bank and Bank of Rajasthan for ICICI Bank.

Timmy, YAK WAN,Esquel Group– Hong Kong will share his experiences as to why the ever increasing use of advanced technology — think robotics, lasers and computers — in manufacturing has led to a "skills gap" that makes finding capable employees challenging and how the Esquel Group is addressing that challenge. Timmy is currently spearheading the group's human resources in overseas operations, including Malaysia, Mauritius, Sri Lanka & Vietnam. Esquel Group is one of the world's leading producers and retailers of premium cotton shirts, with production facilities in China, Malaysia, Vietnam, Mauritius and Sri Lanka, employing 58,000 people worldwide. Dr. Giovanna Y. WANGChief HR Officer CHEC - Port City Colombo will talk of the key people challenges facing the Sri Lankan construction industry, an industry that is set grow by leaps and bounds in the future with the proposed new megapolis development plan.

Sandeep Chaudhary Chief Executive Officer for Aon Hewitt Consulting in India and Dinesh Weerakkody Chairman National Human Resource Development Council of Sri Lanka will moderate the discussion for the leadership session, the closing session on the 12th. Sandeep serves on Aon's Asia Pacific leadership team and is a seasoned global HR consultant, he has also authored many articles and shared perspectives on management issues in leading Indian media publications and news channels such as The Economic Times, Business Standard, and CNBC.

Sandeep is a management graduate from Symbiosis Institute of Management Studies, Pune. He also holds Masters in Labor Law from Symbiosis Law College, Pune. Dinesh Weerakkody is a former Chairman of Commercial Bank of Ceylon, he currently serves in many honorary roles in the current administration, serves on the boards of many journals and also on public listed boards.
The Sri Lanka Human Capital Summit will be inaugurated by Prime Minister Ranil Wickramasinghe on the 11 th of August at the Taj Samudra Colombo.