---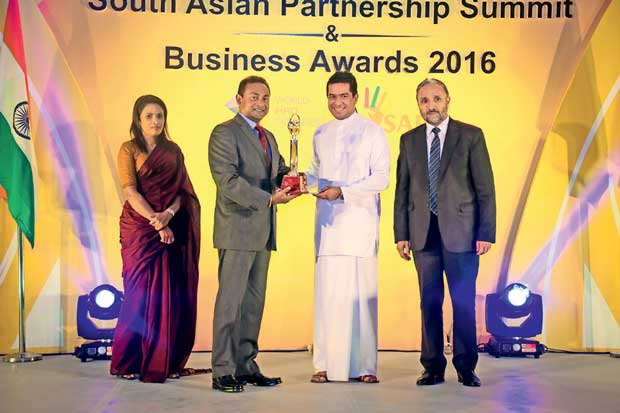 SriLankan Airlines Human Resources Head Pradeepa Kakulawala receiving the award from International Trade Deputy State Minister Sujeewa Senasinghe
SriLankan Airlines enhanced its position of prominence in South Asia's corporate sector by winning two prestigious accolades for human resources (HR) practices and corporate social responsibility (CSR) at the Sri Lanka Best Employer Brand Awards and South Asian Partnership Summit & Business Awards 2016 (SAPS) of the World HRD Congress, respectively.
SriLankan Airlines Director Colonel Sunil Peiris said, "Our national carrier has built a strong tradition of excellence over the years. These two awards underline SriLankan Airlines' reputation as both an employer of choice through our HR practices and as an exemplary corporate citizen which serves the community and the country with distinction through our community upliftment arm SriLankan Cares."
SriLankan Airlines Human Resources Head Pradeepa Kekulawala, who accepted the awards on behalf of the national carrier, said, "I am delighted that the professionalism and commitment to excellence of our HR and CSR team have been recognized by these international awards. All credit to our team members for their consistent hard work and dedication."
The Sri Lanka Best Employer Brand Awards were hosted by Employer Branding Institute and Stars of the Industry Group, with CHRO Asia as a strategic partner and were endorsed by the Asian Confederation of Businesses. They were presented recently at The Kingsbury Hotel in Colombo. Award winners were selected first through research by a specialized team of researchers, whose recommendations were evaluated by an eight-member panel of international judges.
The awards are presented to the best employers who create a culture of contribution and innovation at work, believe in consistent improvement in HR policy by measuring organisational health and inculcating values that help to achieve their vision, inculcate practices of being a social and equal opportunity employer, develop and nurture future leaders, are exemplary in learning and development initiatives, communicate distinctiveness in employee hiring, training and retention practices and demonstrate continuous innovation.
Meanwhile, the airline's CSR arm, SriLankan Cares, received the Community Development Award in the Organisational Category at South Asian Business Excellence Awards 2016 on the same day, at Waters Edge.