---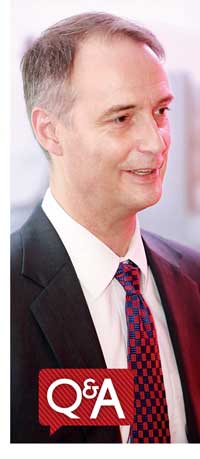 Regus, the provider of solutions in workspace recently opened its 7thcentre in Sri Lanka, spelling out an aggressive expansion drive that will pave way for more business progression for local as well as foreign establishments in the country. Regus, with a presence in 120 countries, strives to understand market trends and customers in line with global workplace trends. At the recent launch of the new business centre in Nawala, the new building is the second introduction into the suburban town of Nawala which has already been witnessed to be an area of growing potential in the face of business expansions. The opening was graced by Regus Asia Pacific, Chief Executive Officer, John Wright and Regus Sri Lanka, Country Manager, Dr. Nirmal De Silva. In an interview with Wright, we delved further into Sri Lanka's current position with Regus and what the country means to the global workspace
solutions provider as a market.
Following are excerpts of the interview
Regus has expanded in Sri Lanka with the 7th business centre in quick succession, how is the country faring in terms of growth in the market region?
So far, Sri Lanka has displayed itself as a good market for Regus and with the established reputation over here for Regus, we have witnessed great demand and we aim to expand further down the line in terms of more centres. As Sri Lanka moving forward from the current stature as a middle income country, it will only get better in the future as more businesses and innovative start-ups grow, multi-nationals expand and also more foreign companies look to Sri Lanka as a business hub.

Sri Lanka fits very well into the Asian business scheme and for Regus, Sri Lanka is now a medium-sized country in terms of center expansion. As Regus in itself is moving forward towards more change in terms of adding more innovative formats into the portfolio, Sri Lanka can stand to only benefit from this in the long run.

Can you rate Regus Sri Lanka's gradual transformation from inception up until what it has become today?

When Regus was first introduced into the country, the concept was something that almost felt surreal and people were practically unaware of this mode of work. From an initial stage of around 95 percent of clients being from the foreign sector, today the percentage stands at 60-40 with 40 percent being local companies utilizing Regus' services. This of course is good news and very soon, both the foreign and local segment of companies will stand in equilibrium.

What kind of companies utilizes Regus?

Regus is not only ideal for any medium sized company but freelancing individuals, start-ups with a minimum of two people or more, small and medium enterprises as well as multi-national companies have already embraced what Regus has to offer. As Regus is constantly on the lookout for newer locations and potential areas for expansion, the general public would be able to make use of the great packages that Regus offers without any hidden charges or extra commitments. It's evident in the name, as flexibility goes.

In what way has Regus influenced companies both locally and globally?

Regus is undoubtedly one of the best platforms for an up and coming company and for existing and established companies. If a company in Sri Lanka is seeking to expand in a regional country, for example Singapore or Hong Kong, then Regus would not only offer workspace potential but also help the company however its size to understand the market, establish themselves in the country and identify the potentials of the business location whilst bringing awareness into the potential that a company with a Regus address holds. The added advantage is also that depending on their customers and location, the company need not limit its footprint in one location but can move from one address to the other very easily without hassle, with Regus' offcies already being strategically scattered in many locations. The same goes vice versa as foreign companies would be familiar with the Regus concept and with Regus being in Sri Lanka, companies looking to invest in the country can easily adapt to the business landscape of Sri Lanka positively. We learn a lot from our clients and whilst identifying big corporations seeking out a more flexible work approach, knowing that Regus is available in the country only adds in optimistically into the equation.

What is your take on flexibility and Sri Lanka's move towards embracing this work concept?

For organizational growth in Sri Lanka, I find that work flexibility is a key factor. Today, the workplace conditions are evolving and in time, we will find ourselves embracing work place strategies determined by all styles of businesses where work flexibility will hold a substantial position for many business establishments regardless of size and capacity.
Globally, we can witness more businesses beginning to understand and embrace a more flexible approach towards working conditions and at Regus, we are positive that Sri Lankan companies will be well-positioned towards achieving an upward trajectory towards economic growth.