---
Publicis Director Selonica Perumal has been named as one of the Top 40 Women to Watch by Campaign Asia.

Perumal joins an elite group of professional women in the marketing communications industry in Asia Pacific, who were selected because they delivered business results and client wins and spearheaded original projects and creative work that outperformed all targets.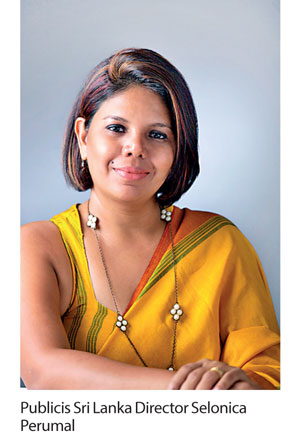 In announcing the winners of the Top 40 Women to Watch 2017, Campaign Asia stated, "Every woman on the list also stood out for going far beyond their contractual brief. These are women whose ability to see the bigger picture and determination to improve the world they live and work in has seen them overhaul ingrained systems, bringing together unwieldy sectors to work together for a common goal, whether that be gender equality, digital transformation or any other subject close to their hearts."
Commenting on this recognition, Leo Burnett Sri Lanka Managing Director Ranil de Silva stated, "Selonica is a worthy recipient of the 'Top 40 Women to Watch' award and I am proud of her achievement. She is a true professional with a passion for marketing communications. Her focused approach to implement strategic marketing communication campaigns to build her client's business has earned her this success.

I have watched her thrive and flourish in our industry over the years. I have always admired Selonica's results-oriented approach to every task. This drive to achieve gratifying results and to raise the bar in every sphere sets Selonica apart. It is this foundation that brought her success as a leader."
"I am honoured to be named as one of Campaign Asia's Top 40 Women to Watch in 2017," said Perumal. "The gender equality debate has been a hot topic this year. This recognition for the contribution of women to developing and growing the advertising and marketing communications industry is a very timely one. Women are creating a positive change within our industry, especially in Asia. I am very proud to be among these female champions this year."

As Publicis Sri Lanka Director, Perumal has been growing brands and creating tangible business growth for her expanding portfolio of clients.

With an MBA from the Edith Cowan University in Australia, Perumal has spearheaded campaigns which have won many ad industry awards and numerous other recognitions.

She has been selected as the Brand Person of the Year at the Leo Burnett Star Reacher awards and was named a Star Reacher by Leo Burnett Worldwide in 2014. Since 2014, Perumal has served as Treasurer on the Executive Committee of the 4As and plays an integral role in the initiatives conducted by this industry body to develop young marketing professionals.