---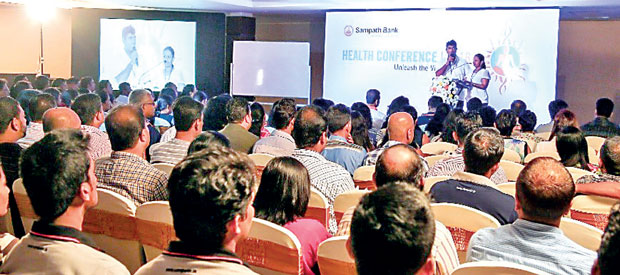 Sampath Bank recently hosted a health conference in reiteration of its efforts to ensure the well-being of its employees.
Themed 'Unleash the Vigour in You', the Sampath health conference was held in the presence of former Managing Director Aravinda Perera along with the participation of over 250 employees from the head office and multiple branches across the country.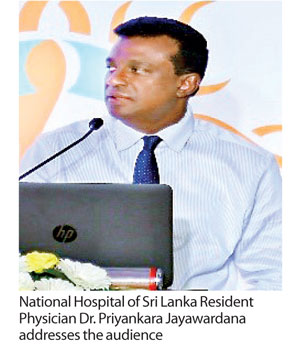 The key speakers who steered the programme included National Hospital of Sri Lanka Resident Physician Dr. Priyankara Jayawardana, Colombo South Teaching Hospital Consultant Obstetrician and Gynaecologist Dr. Ajith Fernando, National Cancer Control Programme Medical Officer Dr. Kosala Muthukumarana and University of Rajarata Lecturer Dr. M. Fernando.
Mindfulness coach Aruna Manatunga and Nawaloka Hospital Registered Dietician/Nutritionist Shehani Ariyaratne too conducted sessions at the conference.
This full-day programme covered areas such as diabetes, hypertension and high cholesterol, common gynaecological problems, prevention and early detection of common cancers, behaviour modification, meditation for life, dietary requirements for a healthy lifestyle, etc.
In addition, team Sampath also performed activities such as dancing, singing and instrumental performances with the objective of emphasising the positive mindset and healthy lifestyle such activities can bring to one's life.
Remarking on this initiative, Group Chief Human Resources Officer Aruna Jayasekera said, "We believe our staff is our greatest asset and their health and well-being are of high importance. Therefore, we set out with three key objectives in organising this conference, which encompass creating awareness, prevention and management of common non-communicable diseases among our team. Subsequently, through this conference we intend to encourage a culture conscious of health and well-being among our employees and assist them in building a healthy lifestyle." Parallel to the conference, Sampath Bank also launched its own health magazine titled 'Health & You'. This monthly magazine will be shared on the bank's intranet and will keep team Sampath adequately informed on issues relating to health and well-being and best practices.
Further, the bank continues to conduct various other programmes such as yoga, meditation, first aid, counselling services, etc., for the staff.
The health conference is a strong depiction of Sampath Bank's commitment not only to uplift the nation but to ensure the well-being of the own team. Team Sampath continues to play a crucial role in the success of
the bank.