---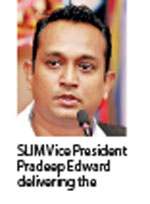 Preliminary Certificate in Marketing (PCM) the foundation course of marketing conducted by Sri Lanka Institute of Marketing (SLIM) had its third inauguration for the current year in July and the fresh intake is now on.

PCM is the gateway for people who have an interest towards the subject to venture into the philosophical world of marketing. Not only as a career path, marketing as a lifestyle, will ensure all professionals uplift their professional standards.

The large gathering of over 150 at the inauguration comprised school leavers who desire to pursue a career in marketing, young executives, junior marketers who need basic marketing qualifications, middle managers who require theoretical knowledge in marketing, adults who look forward to gaining marketing knowledge and non-marketers who realize the value of marketing, enrolled for the SLIM PCM.

Educating budding marketers on the basic and fundamental theories in marketing with business world examples is the core object of SLIM PCM. Modules such as marketing mix, products, pricing, distribution, marketing communications, promotions, marketing concepts, marketing environment, consumer behaviour, marketing research, segmentation, targeting and positioning (STP), product planning and development, plus Marketing vs. Sales are bundled in the three months certificate programme.

SLIM Vice President Pradeep Edward who is the Director/CEO of GAP Holdings said the professional career path led by SLIM PCM will open new vistas in a person's thinking pattern and expose him/her to a whole new world of marketing.

"It is interesting to witness increasing numbers of students engaging in marketing studies every year. This is due to the competitive environment in which they have to work as employees. SLIM PCM caters to this need perfectly. It lays the foundation for beginners as the ideal entry point to marketing. SLIM also covers a vast scope on the subject by incorporating courses in Branding, Digital Marketing and Sales."

"SLIM PCM will bestow you with practical aspects of marketing and secure a career path with the highest growth rate. It is the shortest route to an MBA. It also lays the foundation for obtaining a Post Graduate Diploma in Marketing (PGDIP)", he observed.

Guest speaker, Best Life Group Insurance Sector CEO/ED Lalith Fernando said, "Having exposure in both state and the private sector organizations I can assure this. Employers view SLIM PCM holders favourably, because the programme imparts practical knowledge while providing an international perspective on marketing. Thus people even in non-marketing careers choose PCM as they understand the importance of gaining marketing knowledge."

He added, "SLIM PCM is conducted by SLIM, the national body for marketing is committed to elevate the status of marketing in the country. The corporate sector has endorsed SLIM's credibility and there are enormous openings for SLIM students in the corporate sector."

SLIM senior lecturer G. S. Sylvester said 'Marketing' is not merely a qualification but a lifestyle.
"Even people from non-Marketing disciplines follow PCM, as they understand marketing is essential for entrepreneurship and business growth. Your target thus should be in the shoes of a Corporate Manager in less than five years which is a feat that you can achieve", he addressed the new batch of students.

SLIM CEO/Executive Director Sanath Senanayake said, "SLIM PCM enjoys wider acceptance and recognition among potential employers since the course has a blend of theory and sense of practical application. SLIM is an institute which specializes in grooming budding marketers to suit both Sri Lankan and global contexts. SLIM qualifications are well accepted by the corporate sector due to the credibility of its courses and training programmes. Thus we contributed to the nation by creating professionals with wealth of knowledge and expertise."