---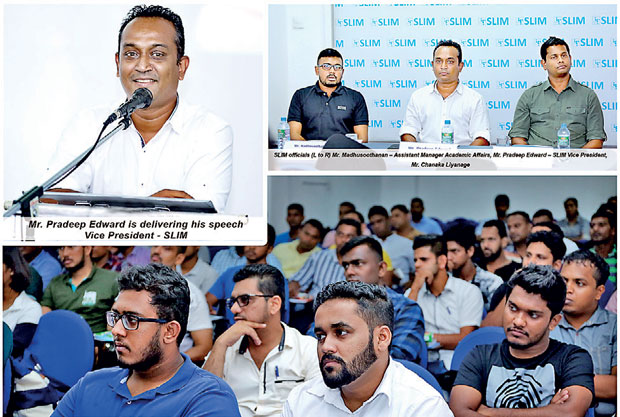 Sri Lanka Institute of Marketing (SLIM) had its inaugural session of the National Diploma in Sales Management (NDSM) for 2017 at SLIM's Kithulwatte branch.
NDSM, a one-year Diploma programme, caters to sales career minded candidates seeking to acquire specific competencies to differentiate themselves from conventional sales personnel. NDSM also fits in with those engaged in marketing or business development, intending to enhance their skills in sales management in order to widen the knowledge and secure their career paths.
Students can follow NDSM at the SLIM Business School in Colombo. The open day session, which shed light on the secrets of success in sales enticed the gathered prospective students. Vital clues and insights towards sales management were revealed to a cross-section of sales and marketing personnel who participated, many of whom were enthusiastic professionals in the sales field. They took home a wealth of knowledge on the profession they are involved in.
SLIM Vice President Pradeep Edward, who is the Director/CEO of GAP Holdings, graced the occasion and stated that NDSM, being a scientific and innovative program, has become the most recognized sales management programme in the country.
SLIM Vice President also brought to the notice, the wide spectrum of activities SLIM students are exposed to. He said the students are offered beyond NDSM studies which opportunities to take part in National events conducted by SLIM such as SLIM-NASCO, Marketers' Nite, EFFIE and SLIM Toastmasters. "Students enroll with SLIM Toastmasters and the Students council can create networking opportunities and multiple support sessions with colleagues and lecturers", he said.
A banking professional Chanaka Liyanage said all humans are naturally talented sales persons and this raw talent could be enhanced with proper guidance. He said he is pleased to see the recognition for the subject of sales in Sri Lanka. "Gone are the days, when a successful salesman was defined as an individual who could sell a refrigerator to an Eskimo. The modern-day sales person is an ambassador of the company that he represents. He should have a socially responsible personality and skills to educate his prospective customer on the pros and cons of his product or service." He added, "Sales studies bring forth a very artistic approach to the subject. A clever sales person should know how and when to close a deal. Sales even connects our day-to-day lives. We constantly sell ourselves at home, at our workplace and on Facebook. Thus one should understand the philosophy of sales."
SLIM CEO/Executive Director Sanath Senanayake commenting on NDSM said, "The NDSM syllabus, text books and course content have been revised by SLIM to suit the current industry requirements. NDSM has the right blend of assignments and exams with individual and group presentations. The core competency of SLIM is the ability to tailor-make programmes to suit the local context as we are poised to elevate the status of marketing in Sri Lanka. The NDSM programme too will be fine-tuned with the need to be in harmony with industry requirements, which will fulfill SLIM's endeavour of producing sales and marketing professionals who could adapt to any scenario."
Credible, innovative and value added/customized courses, training programmes, seminars and affordable prices have made the marketing fraternity and the corporate sector of Sri Lanka perceive SLIM, the national body for marketing as an invaluable mentoring entity.