---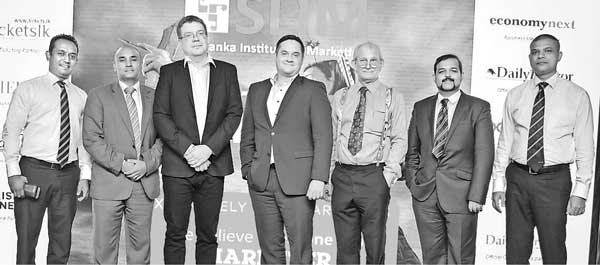 The Marketers Summit 2016 organized by SLIM, the national body for marketing in Sri Lanka was held at Waters Edge with the participation of marketers, decision makers in the country, expert international marketing practitioners and speakers.

Participation comprised of heads of organizations, decision makers, marketers and corporate sector personnel in the country. The program was aimed at providing participants with global insights on CRM, advertising, retail marketing and branding that have revolutionized the marketing sphere.
With this year's theme 'Everyone is a Marketer' this full-day program was inclusive of insightful presentations, which added immense value to the professional lives of marketing practitioners in Sri Lanka.

Five renowned international speakers were featured in this year's program, who shared their knowledge in marketing in a very interactive manner. Best marketing practices in the world were explained and case studies, which have contributed towards innovation, were discussed. The latest marketing trends in the world were communicated to the audience while making emphasis on how to strike a balance in the local marketing context.

International speakers at the event were;Norman Wagner, Managing Director of Mediacom Beyond Advertising, Hando Sinisalu, CEO Best Marketing International, Ian Ramsden a founding member and fellow of the Institute of Direct and Digital Marketing UK, Jean-Marc Flamberd, Vice President of Sales and Marketing Europe Antigua and Barbuda Tourism Authority UK and K. Vijay Kishore, the author of "Are you anegg" and founder of Penetgraph Corporate solutions (Pvt) Ltd.
Their speeches based on branding and content marketing, digital marketing, emotional loyalty via CRM, a look into the world of marketing through the eyes of three islands, took the session to a height that made SLIM Marketers Summit 2016 a superior experience for all the participants.
The invited international speakers praising knowledge of local marketing practitioners made significance.
The day's programme was concluded following the address on modern trade (retail marketing), delivered by K Vijay Kishore.

SLIM CEO along with the staff, council and ExCo members participated at the event.
SLIM President Upul Adikari commenting on the SLIM Marketers Summit 2016 said,"Sri Lankan marketing practitioners were able to garner vast knowledge in CRM by listening to industry giants in the globe.Customer relationship and communication which is a vital aspect in marketing highlighted at the event bestowed a wealth of knowledge to participants".
SLIM CEO and Executive Director, Sanath Senanayake said that SLIM is poised to provide quality training programs at all times thus the institute never compromises with standards.
"Credible and value adding training programs and affordable prices of SLIM have made the marketing fraternity and the corporate sector in Sri Lanka to perceive SLIM as an invaluable mentoring entity. Programs in the nature of SLIM Marketing Summit 2016 add more value to the reputation of SLIM", he commented.

SLIM being the national institute for marketing in Sri Lanka is known for its innovative training programs, courses in marketing at affordable prices. The ultimate goal of SLIM is to add value to the marketing fraternity in the country.