---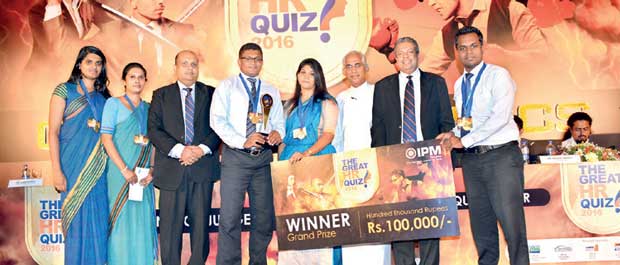 The winning team from SDB with chief guest Eran Wickramaratne-Deputy Minister of Public Enterprise Development, IPM President-Prof. Ajantha Dharmasiri, Chairman of the IPM HR Quiz 2016 Organizing Committee-Prasad Piyadigama
IPM Sri Lanka –the organizers of the country's only corporate quiz dedicated to human resources management, announced that the IPM Great HR Quiz 2016 Champion's Trophy was awarded to the team representing the Sanasa Development Bank (SDB) at the IPM Great HR Quiz 2016 Championship held at the Hotel Galadari
The event took place amidst a large gathering of HR professionals, representatives from over 50 participating companies, chief guest Eran Wickramaratne-Deputy Minister of Public Enterprise Development, IPM Sri Lanka President Prof. Ajantha Dharmasiri, Council members, students of IPM Sri Lanka and special invitees.
Initiated under a novel concept of the Immediate Past President of IPM Sri Lanka-Rohitha Amarapala in 2014, the popular IPM Great HR Quiz 2016 is now in its 3rd successive year. The Quiz was held as a live "table quiz" with over 53 teams representing blue-chip companies in the private and public sector. The Quiz used a unique "electronic response device" for each table and team to respond to the questions which leaves minimal or no room for errors in responses. Experienced HR professional Chris Obeyesekere, a Fellow Member and Past President of IPM Sri Lanka, officiated as the Quiz Master.
"Participation in itself is important in these rare kinds of events which give opportunities for HR professionals to display their talents. While congratulating the winning team and all participants at the Quiz, we are impressed by the level of knowledge on HR related matters as well as ancillary areas displayed by the participating teams" said Prof Ajantha Dharmasiri-President, IPM Sri Lanka.
The team representing SDB who emerged as the winners at the Quiz was presented with the IPM Great HR Quiz 2016 Champion's Trophy, Rs. 100,000 prize money and a medal and certificate for each team member while team members representing Omega Line who emerged as runners up were presented with the IPM Great HR Quiz Runners Up Trophy, Rs. 75,000 prize money and certificates. The team members representing Dialog Axiata PLC, adjudged the 2nd runner up were presented with Rs. 50,000 prize money and certificates. All other participants in the IPM Great HR Quiz 2016 were presented with certificates.
"We take this opportunity to thank all team members and their respective companies for participating in this event to make it a great success and hope that the participants in particular and the audience too were able to gain valuable knowledge on human resources management. We trust that the organizing committee supported by the academic panel was able to select and present the quiz formula which was rich in substance," said Prasad Piyadigama-Chairman of the Great HR Quiz 2016 Organizing Committee and Director-Organization & Human Resources, Siam City Cement (Lanka) Limited and Council Member of IPM.