---
Fifty of Asia's Best Marketing professionals were recognized at the 7th CMO Asia Awards held on the 4th of August 2016 at the Pan Pacific Singapore. Rukman Weeraratne, General Manager Marketing and Distribution of Union Assurance PLC was recognised as one of the Top 50 Marketers in Asia at this prestigious event.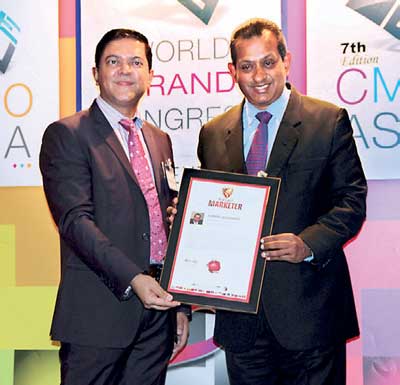 Asia's Best Marketer list is intensely researched by highly qualified staff who shortlist marketing professionals doing extraordinary work and tracks their achievements. A jury consisting of professionals from across the globe reviewed the short list and made their final selections.
Weeraratne is a veteran marketer in Sri Lanka and a name synonymous with the insurance industry having contributed to its growth and development over a period of 30 years. During his vibrant career, he has held numerous senior marketing positions with vast local and international exposure. He was one of the panelists to share his knowledge and experience at the panel discussion titled "Redefining The World of Work. Courage will pay Dividends" at this prestigious event.
"I am extremely honored and humbled to be listed as one of Asia's Best Marketers. I believe without my team members this wouldn't have been achievable. It was a journey for many years together as one team and I would say this achievement belongs to the team at Union Assurance," said Weeraratne.
"As a passionate marketing head with proven success in the fields of marketing and distribution, and in depth awareness of today's marketing challenges, his efforts to develop and professionalise the insurance industry in Sri Lanka is highly commendable. We are positive that his continuous contribution to the industry will enable all stakeholders to reach even greater heights in the future,"said Dirk Pereira – Director/Chief Executive Officer, Union Assurance PLC.