---
People's Leasing & Finance PLC, the foremost finance company in Sri Lanka's non-bank finance sector bagged two Silver awards under financial products and services category at the 16th SLIM-NASCO awards ceremony held at the Eagle Lakeside Hotel, Atthidiya recently.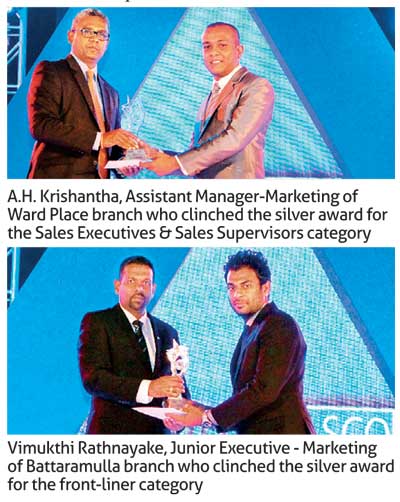 At the 2016 awards ceremony, A.H. Krishantha, Assistant Manager- Marketing of Ward Place branch clinched the Silver award for the Sales Executives & Sales Supervisors category whilst Vimukthi Rathnayake of Junior Executive - Marketing of Battaramulla Branch, clinched another Silver for the front-liner category.
The SLIM-NASCO awards ceremony is held annually to recognize the potential and talents of the professionals who actively contribute towards the marketing sphere in Sri Lanka.
Lionel Fernando, Deputy General Manager - Operation of People's Leasing in commenting on the latest awards won by PLC team said, "PLC being a leading player in the non-bank finance sector has the prime objective of providing an exceptional high level quality service to its customers with a view to satisfying their personal and business financial needs".
"Our managers and the employees are fully-geared to cater to this need and the Silver Awards they clinched this time are shining examples of their commitment, prowess and efficiency in building the branch image of PLC. I take this opportunity to extend my sincere gratitude on behalf of the company to our team for proving once again, that they are a truly force to reckon with", said Fernando.
People's Leasing Company was incorporated in 1995 as a subsidiary of People's Bank.
PLC offers value added one-stop solutions through its five subsidiaries namely; People's Insurance PLC, People's Microfinance Ltd, People's Leasing Property Development Ltd, People's Leasing Fleet Management Ltd and People's Leasing Havelock Properties Ltd.