---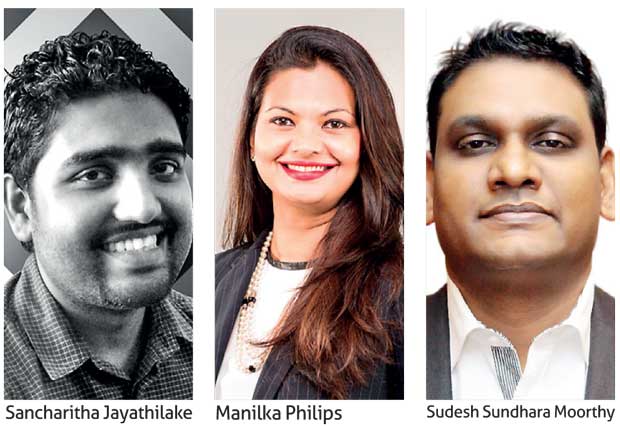 Ogilvy Group, the most diversified and largest Marketing & Communications enterprise in Sri Lanka has announced last week, the appointment of 03 new CEO's for three of its Companies. Chairman of Ogilvy Group of Companies, Irvin Weerackody announced yesterday, the appointments of Sudesh Sundhara Moorthy as CEO of Phoenix Ogilvy, Manilka Philips as CEO of Ogilvy PR and Sancharitha Jayathilake as CEO of Geometry Global – the Activation agency.
Commenting on these new appointments, Irvin Weerackody said, "These top notch professionals in their respective disciplines have amply proved their mettle and now need to play a more crucial role in the development of the business – with expansion and diversification being the key".
The Ogilvy Group consists of 06 companies in related disciplines namely, Phoenix Ogilvy, Ogilvy Media, Ogilvy PR, Neo@Ogilvy, Geometry Global and RedWorks.
Founded by Irvin Weerackody, Phoenix amalgamated with Ogilvy & Mather Worldwide – the global advertising giant, in 1998. Today, Ogilvy Group is 230 strong and has been the breeding ground for many an advertising professional in Sri Lanka.
Sudesh Sundhara Moorthy, currently Chief Operating Officer, is a marketing communications specialist with over 19 years of industry experience, fifteen of them attached to Phoenix Ogilvy & Mather.
Some of successful campaigns Sudesh led at Ogilvy includes Sri Lanka Tourism – global campaign, ICC Cricket World Cup 2011 – South Asia campaign and ICC Twenty20 2012. Currently he spearheads the global campaign for repositioning Ceylon Tea.
Sudesh who holds a MBA from Edith Cowan University – Australia and graduated as a Certified Management Accountant from ICMA Australia carries with him hands-on experience in planning and developing effective marketing communication programs that generate sales growth and boost brand strength, across a wide range such as Financial Services, Insurance, Telecommunication, Travel & Tourism, Sport Marketing and FMCG products.
Manilka Philips, present GM of Ogilvy Public Relations, Sri Lanka is a highly skilled PR and Communication strategist in Sri Lanka, with industry expertise spanning over 18 years of which 12 years has been with Ogilvy PR. She has been at the helm of the firm's growth and expansion since 2005 which today is the largest in the country.
Specializing in Crisis Management and Communication, Manilka has wide experience in Corporate and Brand Image Building, Employee Communication, Digital Influence and Corporate Media Coaching. Her industry experience spans across local blue-chip companies and multinational organizations in Telecommunication, Banking and Finance, FMCGs, Hospitality, Health, Luxury and Lifestyle.
Manilka began her career at Sri Lanka's premier news organization, Channel One MTV "News First" as a prime – time News Anchor, News Producer and Journalist. Holding a degree in Mass Communications, Manilka has been a guest lecturer in Media and Public Relations at academic institutions.
Sancharitha Jayathilake, current Chief Operating Officer of Geometry Global Sri Lanka, with a solid grounding at John Keells and Lanka Orix in senior positions, joined Ogilvy Action as Head of Activation, in 2008. Subsequently, he joined Sri Lanka Telecom as Head of Sales and Marketing for PEO TV, playing a leading role in many successful campaigns.