---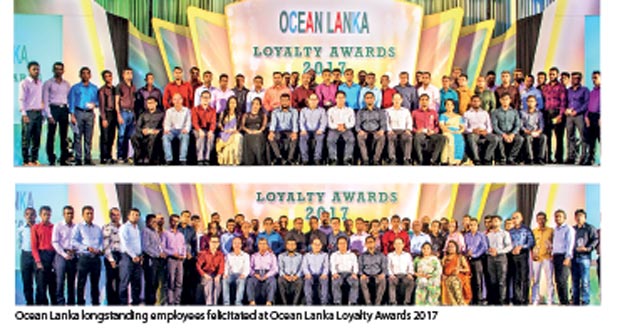 Ocean Lanka, one of the largest weft knitted fabric manufacturers in Sri Lanka, recently held its second annual awards ceremony, Loyalty Awards 2017, to felicitate more than 100 long-serving employees, who have served the company since its inception in 1996.
As a company privileged to have one in four employees with over 10 years of track record, Ocean Lanka initiated Loyalty Awards 2017 to recognize and reward the utmost commitment and dedication towards the company. In a vibrant ceremony held at Boralesgamuwa Golden Rose, Ocean Lanka felicitated 56 employees, who served the company for 20 long years and another 65 employees, who served for 10 long years.
Loyalty Awards 2017 was held under the patronage of Ocean Lanka Managing Director Dr. Austin Au, who graced the occasion as the chief guest. Renowned motivational speaker, author and former Aviva Insurance Managing Director Deepal Sooriyaarachchi addressed the gathering as the guest speaker. The event was pleasantly animated with palatable delights, fine musical entertainment along with a night full of fun and laughter revelled by the rewarded employees and their beloved families.

Commenting on the occasion, Dr. Au said, "Employees are the most invaluable assets of a company. Much like the foundation of a building, it is quite essential to have integrity in the workplace to achieve lasting success. In that sense, the management at Ocean Lanka is very fortunate to have employees who have served the company year after year with sheer honesty, commitment and loyalty, helping the company overcome numerous challenges and steer forward with resilience. We strongly believe that they will continue to support the company for many more years to come."

A highly motivational address was delivered by Sooriyaarachchi, who spoke about the importance of the 3Ps for Success – 'Purpose, Philosophy and Plan of Action' – keeping the audience engaged throughout the lecture.

"Purpose gives meaning to what you do and decides the heights you reach. See the big picture, set your own standards. What you do now is the most important thing in the whole world," Sooriyaarachchi emphatically stated, encouraging the audience to perform with perseverance and be prepared to face new challenges to attain a smooth career progression.

On behalf of the felicitated employees, Nalin Silva shared his thoughts, recollecting the experience of joining Ocean Lanka as a greenhorn 20 years ago. He further elaborated on his accomplishments made possible thanks to the guidance, support and encouragement received throughout his tenure.

Facilitating ample opportunities for the personal and career development, the company also adopts industry's best practices in HR, while providing staff welfare schemes underscoring the employee health and safety. These factors have not only helped Ocean Lanka to maintain high standards within a pleasant working environment but also to steadily increase its employee retention rate.