---
This is the third of the interview series the Colombo Stock Exchange in partnership with Mirror Business is featuring as an investor relations initiative. The interview in the Q&A format is aimed at providing a platform for S&P SL20 companies to talk about developments in the industry, the company and discuss growth prospects. Following are the excerpts of an interview with Nestle Lanka PLC Managing Director Shivani Hegde.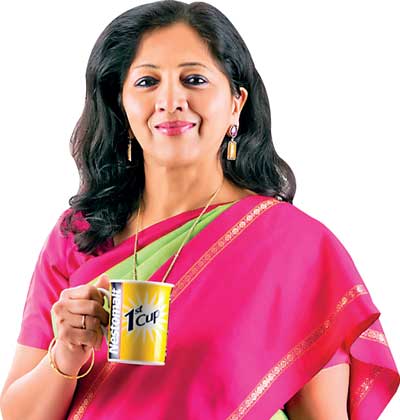 What are the key milestones achieved during the last financial year?
We delivered close to Rs.36 billion in sales, with a growth of 9 percent for the full year ending December 31, 2015, whilst recording a profit after tax of Rs.4.1 billion and a contribution of close to Rs.7 billion to the exchequer. Earnings per share were at Rs.76.77, delivering positive returns to our shareholders.
We focused on innovation and renovation and have launched some key new products in the last 15 months. We introduced NesprayNutri-Up, a ready-to-drink product made with local fresh milk and fortified with micronutrients; Maggi Devilled X-Tra green chilli noodles, the first green chilli instant noodle in the market; NestléDocello dessert solutions to help culinary professionals make quality desserts quicker and at lower cost; and Nestlé Coolpro, Sri Lanka's first-ever proprietary cool beverage dispenser made with advanced smart technology, which offers a trendy refreshing beverage, Nestlé Sjora, with a delicious flavour fusion combining mango, peach and milk.
In keeping with our ambition to be the trusted leader in Nutrition, health and wellness, we also renovated Nespray Everyday by fortifying it with iron and other micronutrients to address deficiencies in local diets. In addition, we enhanced our Maggi Chicken and Maggi Curry noodles with the goodness of popular home ingredients typically found in Sri Lankan kitchens, such as vegetables and spices like turmeric, nutmeg, coriander, cumin and cardamom.
Our leadership in nutrition, health and wellness also extended to creating public awareness about the importance of good nutrition and an active lifestyle. The Nestlé Healthy Kids Programme, which partners with the Education Ministry, was expanded to educate over 46,500 more school children on nutrition and the importance of physical activity. In parallel, we launched a number of public awareness campaigns to encourage adults to 'Choose Wellness' through a healthy diet and lifestyle. Further, Milo, which has a strong association with school level sports, launched a campaign to create awareness among parents and kids about the importance of breakfast.
We continued to invest in Sri Lanka's rural economy in 2015, contributing more than Rs.6 billion to over 24,000 local farming families for the purchase of local fresh milk and coconuts. In line with our plans to develop our milk procurement network in the North and support the local dairy industry, we opened a new milk chilling centre in the North-Eastern town of Vaddakkachchi early this year.
Last but not least, it was gratifying to be recognised for our financial performance and contribution to the economy. Among the awards we received was an award for 'Empowering Dairy Development in Sri Lanka' from the Public Administration Minister, in recognition of our work in developing the dairy industry, and the 'Best Exporter of the Coconut & Coconut-Based Product Sector' award and 'Best Exporter of the Food & Other Beverages Product Sector' award at the Presidential Export Awards for our contribution to Sri Lanka's exports. Maggi was also voted 'Food Brand of the Year' by consumers at the SLIM - Nielsen People's Awards for the fourth consecutive year, reaffirming Sri Lankan consumers' trust and love for the brand.

What are the growth prospects prevalent in the industries you operate in?
With changing lifestyles, more and more consumers are looking for products that not only taste good but offer nutritional advantages too. There is a need for more natural, healthier and high-quality food products. Consumers are also increasingly becoming more socially responsible and are looking to buy products from companies that have a positive impact on society.
It is important that the food industry adapts to these changing consumer needs – if we can innovate and renovate our portfolio to meet these needs, there will always be growth opportunities.

How do you intend to capitalize on these growth opportunities?
Nestlé is constantly studying consumer trends and we began transforming ourselves globally in 2001 from a food and beverage company to a nutrition, health and wellness company. Today we are the world's leading nutrition, health and wellness company and using our global research and development (R&D) expertise, are working to ensure that our products offer the most superior nutritional profile in their respective categories.
Many of our products are fortified with essential micronutrients and other vitamins and minerals that are deficient in the local diets and supplemented with vegetables and other nutritious ingredients as relevant. In response to consumer needs, we are also reducing the levels of public health-sensitive nutrients - like sugar - in our products, while ensuring the taste our consumers love remains unchanged. We are also focusing on driving efficiencies across the value chain, allowing us to decrease operational costs and free up resources to support growth. We remain committed to manufacturing as efficiently as possible, reducing energy consumption at our local manufacturing facility by 40 percent, water consumption by 39 percent and greenhouse gas emissions by 37 percent over the last seven years.
We are also continually investing in developing the capabilities and skills of our people, to prepare them for the opportunities and challenges of the future.
Finally, enhancing lives through our business will continue to shape everything we do. We believe that our business must 'create shared value' for both shareholders and society. In addition to educating people about nutrition and health, we will continue to support local farming communities, helping to develop the fresh milk and coconut industries via training programmes, knowledge sharing and technical expertise.

In your opinion, what challenges do you anticipate in the industries that you operate in?
We are operating in a complex environment and mastering complexity is always a challenge. In an uncertain environment, it can be tempting to focus on delivering in the short term instead of investing for the future.
Consumer needs and wants are changing very rapidly and staying ahead of the curve and constantly anticipating what the consumer wants is a key challenge.
Developing a pool of talented people with the right skills is also challenging. Many youngsters today prefer to work overseas, so providing them with the right opportunities and environment locally is something the industry needs to place a lot of focus on.
What is your assessment on the readiness of your organisation to meet these challenges?
This year, Nestlé is celebrating 150 years worldwide and 110 years in Sri Lanka. One of the key reasons for our success, both globally and locally, is our stability and long-term approach to business.
Since the beginning, we have deployed a combination of long-term goals and strong and clear values, based on 'respect': respect for people, cultures, environment, next generation and the future of the world we live in. This has not changed over the last 150 years. Our vision and our values continue to be relevant in present times as well. We continue to strengthen the foundations of future growth – investing for the future while delivering in the short term. This formula has helped see us through many challenges in the past and will continue to guide us to perform in the future.
Our values also shape the standards we expect from our employees and the experience we offer them. We believe in inspiring lives and increasing well-being – all of which begin with our people. So we put people before systems and integrity before everything.
With a presence across the world, we also offer our employees a diverse, truly global environment that brings new perspectives to every challenge and opportunity. As a result, they can gain an incredibly broad spectrum of experiences and best practices. Collaboration across teams, territories and continents is our way of life.
With regards to catering to evolving consumers, we benefit from our global food, nutrition and R&D expertise in innovating and renovating products to meet our Sri Lankan consumers' needs. Our strong heritage in this country and deep insight of the local consumer also helps us in not just meeting but also anticipating what our consumers want.

What efforts and initiatives are you taking to drive shareholder value?
As I mentioned before, Nestlé has always been a company that not only delivers in the short term but also sows for the long term. This combination, evident in the consistency of our performance on the Colombo Stock Exchange (CSE) for more than three decades, is possibly the biggest value we offer to our shareholders.
Our results are consistent and we offer our shareholders healthy dividend payments every year.
We are also continually looking for ways to strengthen the relationship with our shareholders by providing them with relevant information about the company (beyond the financials), in addition to introducing special initiatives such as factory visits and free nutrition and health counselling at the Annual General Meeting (AGM).

How has listing on the CSE been beneficial to your company?
The Sri Lankan capital market is a well performing, emerging one and we consider it a privilege to be listed on it. We appreciate the regular support, guidance and willing ear given by the CSE whenever we need it and the efforts taken to recognise the most valuable companies on the stock exchange, such as this column. It was our privilege to be invited by the CSE in September last year, to open trading by ringing the ceremonial bell. We are honoured to be amongst the top three most valuable companies on the CSE in terms of market capitalisation.