---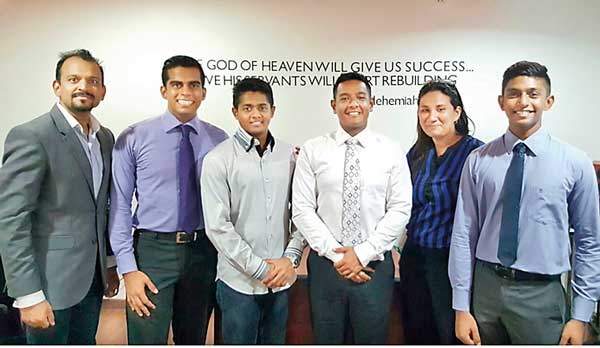 Nehemiah Consultants team
Celebrating one year, Nehemiah Consultants is proud to be one of the leading public relations firms in the industry that focuses entirely on PR and Corporate Communications.
Nehemiah Consultants inaugurated its operations in January 2015 and currently the company has expanded and segregated into three main areas namely Public Relations, Creative Design and Corporate Event Management.

Under Public Relations the services offered include both external and internal corporate communications, financial communications, website content, marketing and promotional campaigns, print and electronic media management and crisis management.
The creative portfolioincludes corporate branding, layout and design of publications, and creative content while the Event Management arm takes care of services such conceptualizing and executing launch events, marketing campaigns, training and workshops, exhibitions, stalls and trade shows, corporate events and press conferences.

Based on the Biblical character Nehemiahthe company's objectives are based on his ability to organize the multitudes, plan and strategize and ultimately rebuild. His story is one of hard-work, diligence, and success which are all reflected in the extensive lists of projects the company has undertaken and executed successfully over this short period of time. The company also aims to introduce biblical principles and righteous governance in to the marketplace and to create a company that supports a younger generation that is willing and able to make positive changes in business and society at large.

Speaking on the success of the company Managing Director Sanura Gunawardana notes, "Nehemiah Consultants was conceptualized on the ethos of building. Therefore ouraim was and is to provide complete solutions for building and communicating a brand and its message. We don't differentiate between our clients. Be it a personal venture or a large corporate, a client gets the same value additions from our team. This and the fact that our team is young and fresh with ideas has helped us to achieve much in a short period of time."

Within this year Nehemiah has gained a great deal of exposure in the industry and currently handles more than 50 clients from different sectors ranging from hospitality to health, the automobile industry, telecommunications and clothing lines. The company also spans a spectrum of government and private industries. The most recent work includes thelaunch of Sarvodaya Finance, launch of the Zinc Journey hospitality brand in Sri Lanka and the launch of the latest Toyota Prius a few weeks ago.Nehemiah also works with globally recognized institutions such as the European Chamber of Commerce Sri Lanka and CNBC.

Nehemiah is capable of not only working in English, Sinhala and Tamil but also writes and translates to foreign languages. More recently the company also set up its own graphics and creative design arm which supports the PR wing with projects that require design work while also taking on independent work. The new office is based at 71A, Gregory's Road, Colombo 7. Please visit the website www.nehemiah.lk or the Facebook fan page for more information.