---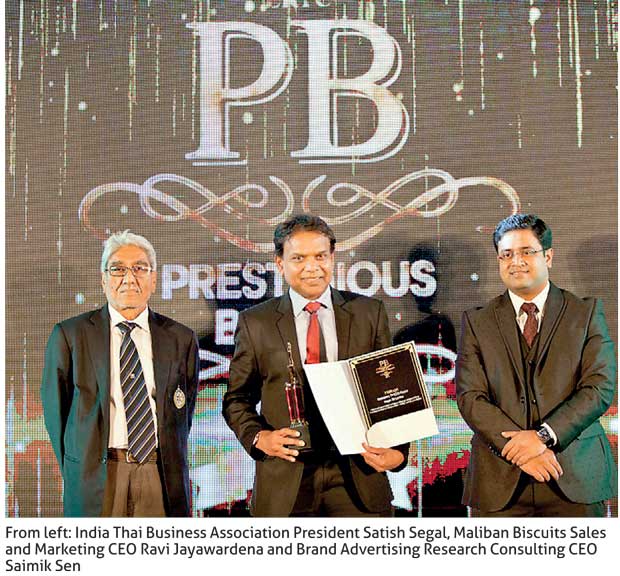 Reiterating its excellence in delivering innovative quality products and services, Maliban Biscuits Manufactories (Pvt.) Ltd, Sri Lanka's most trusted and renowned biscuit manufacturer, was feted with the 'Prestigious Brand of Asia' accolade by the World Branding Awards at an event held in Thailand recently.

The 'Prestigious Brand of Asia' award recognises business entities which have redefined the benchmarks in their respective fields through Trust, Image building, Sustainability, Goodwill, Recall, Growth and Innovation in the Asian market. Over 3,000 brands from 35 countries were nominated for the 2017-2018 awards in multiple categories. Nominated brands were adjudged under three main categories where brand valuation assessed financial evaluation of the companies based on income approach model along with projection, Public Online Voting to understand diverse perception about the brands and market research where the World Brand Agency employed local agencies to conduct one on one industry research to assess various elements and values of the brands.

The shortlisted brands underwent stringent judging criteria, where the brands were rated on the scale of one to ten by a profound jury panel. The key criteria which gave Maliban the edge over other competitors were the transformation by the company in embracing latest innovative solutions into the core business operations and the contribution towards the economy. Maliban was Sri Lanka's only FMCG company to win an accolade at the World Branding Awards this year.

Commenting on the recognition, Maliban Biscuits Sales and Marketing CEO Ravi Jayawardena noted: "The award is a testament which reflects our strong commitment, dedication and goodwill we bring into the market that we operate in. We at Maliban are always committed to providing quality innovative products to our customers. From our strategic planning to customer services, all our plans are drafted in a way that innovation and quality becomes the core enabler for all employees across all pillars. With this, not only are we able to manufacture quality products, but also empower the workforce with modern technology to elevate the customer expectations to a whole new paradigm. Further, the recognition has inspired us to go beyond the prospect to become the number one Biscuit Manufacturer in Asia."
Since the company's inception in 1954 as Sri Lanka's pioneer biscuit manufacturing company, Maliban has been the gold standard, with their use of world-class ingredients and state-of-the-art manufacturing processes. At the time of inception, family members used to taste products to monitor quality and output. This is still practiced to this day. In the recent past, Maliban has received several prominent national and international awards from reputed awarding bodies for achieving business excellence in South Asia.