---
Sri Lanka's leading integrated infrastructure and engineering solutions provider MTD Walkers PLC won the Gold award in the Construction Sector at the recently concluded SLITAD People's Development Awards 2017.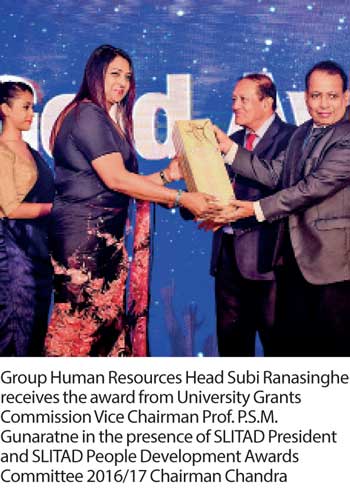 "We are delighted and honoured to win this prestigious award that reaffirms MTD Walkers PLC's position in the industry and recognises the efforts of the group's human resources team to understand the development needs of our employees, bridge any skill gaps and create a performance driven culture," said MTD Walkers PLC Executive Deputy Chairman Jehan Amaratunga. He further added: "I strongly believe that investing in our people is the key to our success and we ensure that the capability, competency and the attitude of the workforce is our priority."

Organised by the Sri Lanka Institute of Training and Development, the award recognises best practices of Sri Lankan public and private sector organisations in the field of training and development. The annual awards programme attracts a large number of high profile organisations including leading conglomerates and public sector enterprises, which were recognised for their achievements in HRD practices.

MTD Walkers firmly believes that preparation for the future workforce means more than just reacting to changing trends. It requires that developing talent, implementing learning programmes, succession planning, and on boarding play a key role in their agenda. The group aims to implement new strategy to develop leaders through training programmes and developmental job assignments in order to be prepared for the future and change. "A better-prepared workforce delivers better results. We put our people first and develop them," said Group Human Resources Head Subi Ranasinghe, explaining that training will give the employee a greater understanding of their responsibilities, be accountable within their role, and in turn build their confidence. This confidence will enhance their overall performance, and this can only benefit the group. She further added: "Training and development is necessary today as employees are more inclined to join a company which provides them opportunity to grow and succeed. People aspire to work for companies with high potential. To attract the best talent, we must have a compelling narrative for how an employee can make a real difference and receive development opportunities."