---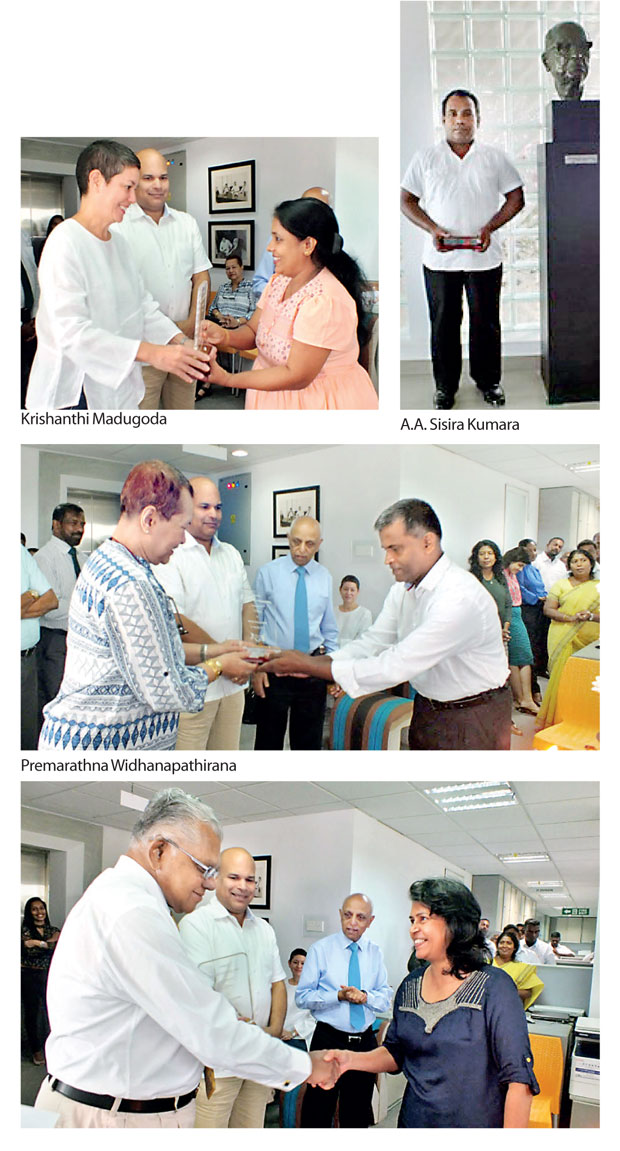 MMBL Group held its long-serving employees' appreciation as part of the New Year celebrations at its head office in Peliyagoda recently.
MMBL-Pathfinder, a privately-held investment group, continues the traditions of innovation with a business model that centres on niche investments in sectors with potential for high growth. Where appropriate, the group forms joint ventures with Sri Lankan and foreign blue-chip companies and high-net-worth investors to realise its investment objective.
The group has identified many sectors that offer attractive value-investment opportunities including financial services, business logistics, trading and distribution, property development, petroleum-related services, quality assurance services, aviation, agriculture and the hospitality sector.
The picture shows Chairperson Y.N. Perera handing over the Service Awards to Premarathna Widanapathirana – Pathfinder Security and A.A. Sisira Kumara – MMBL, who completed 15 years.
Krishanthi Madugoda completed 10 years and she collected her service award from Jennifer Moragoda. G.D. Gayani Perera, who also completed 10 years, collected her award from Pathfinder Agro Ltd Director Dharmin Perera.
"We have always subscribed to the view that loyal, long-serving employees are one of the biggest assets of the company," MMBL Pathfinder Director/CEO K. Balasundaram said at the event.
He mentioned, "We faced challenges last year. This experienced and talented team helped the group to establish itself."
MMBL Pathfinder Group founder Milinda Moragoda and the members of all group of companies participated in
the event.