---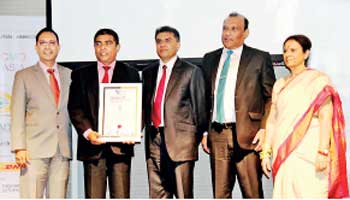 MBSL was awarded Asia's Best Employer Brand 2017 after considering the company's ability to integrate corporate vision with Human Resource strategy enabling to achieve the organizational strategic and business goals.

Further it was evaluated off the effectiveness of implementing HR policies, systems and procedures on talent attraction, development and retention as well the prevailing industrial brand image on people management.

"I am indeed proud to receive this award and I congratulate the MBSL Board of Directors and Corporate Management and MBSL HR team, for their contributions towards creating an award winning human resource management function within MBSL," said MBSL Chairman Dr. Sujeewa Lokuhewa.

"This award demonstrates our commitment to attract, retain and develop our employees. More importantly, it unequivocally positions MBSL among the best employers, not only in Sri Lanka but in the Asian region. This is an encouraging achievement for an emerging financial services provider. It also reflects the success of our human resource strategy and internal integration following the merger. We will continue to invest in building our team and enhancing the talent and skills of our team," said MBSL CEO Nishaman Karunapala.

Some of the key criteria for assessment of companies by the World HRD Congress, is a company's ability to translate and combine corporate vision with action with regards to Human Resource strategy, internal processes to mesh human resource strategy with business and investments towards cultivating competencies for the future. The awards are presented following intense evaluations of companies and their human resource systems and policies on attracting talent, retaining talent, developing talent and employee retention. In addition, the award also considers the effectiveness of a company's marketing communications with regards to human resources development.

"I am extremely pleased that our efforts at developing a world class Human Resource Management framework have been recognized through an independent assessment. This is the return of investment we, HR team gained for enriching and empowering human capital within MBSL over the years whilst thanking the Board and Corporate Management for their guidance and support extended to drive the Human Resource strategies in the company," said MBSL Human Resources Assistant General Manager Dhammika Gunawardhana.

He further went on to say: "Winning Asia's Best Employer Brand Award for the Year 2017, we are more confident about our people management approach and do believe this milestone would add a unique value in generating competitive advantages as well as leveraging company brand image within the financial sector of Sri Lanka."