---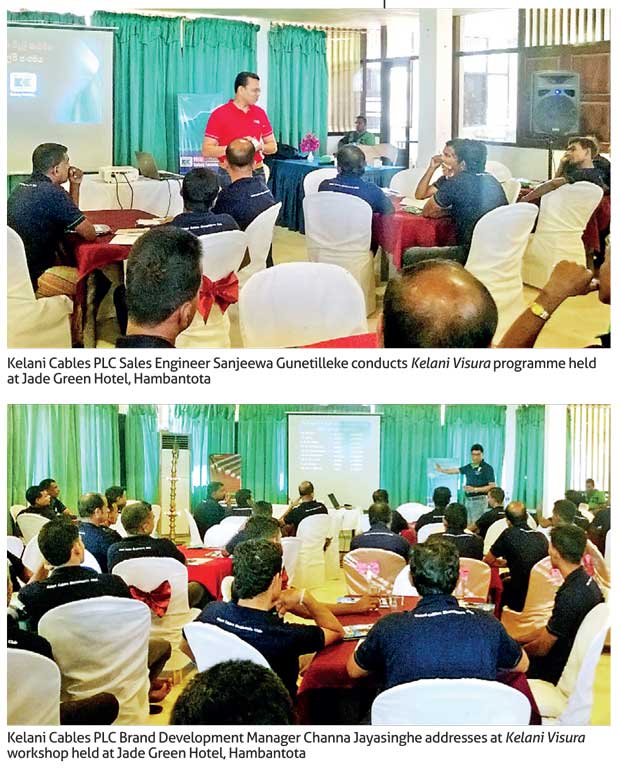 Kelani Cables PLC that produces the number one secure electrical and communication cable in Sri Lanka held the final Kelani Visura electrical technicians' workshop for 2016 at Jade Green Hotel, Hambantota recently.
Kelani Cables PLC unveiled the Kelani Visura programmes a decade back as part of its corporate social responsibility (CSR) initiative – Electrical Technicians' Golden Welfare Service. This noble endeavour was initiated with the object of gearing electrical technicians scattered throughout the island with the latest techniques practiced in the sphere.
The Kelani Visura workshop in Hambantota was led by Kelani Cables PLC Sales Engineer Sanjeewa Gunetilleke. The programme hosted over 150 electrical technicians from the locality.
Here the participants were taught how to select wires with certified quality for the safety of houses and buildings, how to fix plug-points and switches taking into account the distance and nature of the house/building, criterions of selecting wires to suit the number of lamps, laying of wires and other relevant areas of crucial importance.
This comprehensive one-day workshop was inclusive of food and refreshments and was concluded with presentation of certificates and gifts to the participants.
The significance of Kelani Visura is gearing every participant with the knowledge to illustrate an electrical wire-laying plan of a house or a building during the session. Thus, a particular technician becomes a person who could rub shoulders with others in this competitive field.
Kelani Visura being the leading workshop that trains electrical technicians and apprentices throughout Sri Lanka has reached the milestone of training around 20,000 technicians to date.
Kelani Cables PLC without confining to Colombo and urban areas has taken Kelani Visura workshops to other districts as well. Districts such as Kilinochchi, Jaffna, Vavuniya, Trincomalee, Batticaloa, Kalmunai, Ampara and Monaragala benefited immensely from Kelani Visura. In the process, professional lives and social status of families in these districts were upgraded making Kelani Visura a valuable CSR programme.
Kelani Cables PLC Brand Development Manager Channa Jayasinghe commented, "With the pay-off line Wire nam Kelani, Kelani Cables PLC has saturated the marketplace with many products with superior quality. Kelani Cables maintains its position as the number one brand in secure electrical and communication cables in Sri Lanka."
He added, "We selected Hambantota to conduct our last Kelani Visura workshop for 2016 having in mind the upcoming investment zones in the area. There will be major construction projects with heavy demand for electrical technicians in the vicinity. Thus, electrical technicians here need to be equipped with the latest know-how and world-class knowledge of the subject. It is our responsibility to upgrade their knowledge with the newest innovative developments taking place in the sphere."
Jayasinghe further stated, "We offered immense benefits for Kelani Visura members in 2016 and the membership was increased in an unprecedented manner making this CSR programme extremely successful. Furthermore, in association with Commercial Bank we offered every Kelani Visura member a Commercial Bank savings pass book free-of-charge and educated them of savings tactics.
We are sure in 2017 the Kelani Visura membership will surpass all membership records of electrical technicians' societies and clubs in the country. Kelani Visura workshops are held each month at some place in the country with this object. Thus, 2017 will be a significant year for Kelani Visura programme."
Kelani Cables PLC is a 100 percent Sri Lankan company serving the nation for 47 years manufacturing electrical and communication cables. The company achieved 'Super Brands' status in the electrical and telecommunication sector in 2008 for professional supremacy it demonstrated in the electrical and communication cables sphere.
In 2012, Kelani Cables PLC clinched the Bronze award for the excellent business brand category at the SLIM Brand Excellence. It clinched Gold at the SLIM Brand Excellence once again in 2013 for the same category. The company secured Gold at the SLITAD People Development – 2013 award ceremony for the contribution it has made towards training and development of the work-force plus up-keeping their welfare.
Kelani Cables PLC is the proud recipient of ISO 9000:2008 certification for quality, ISO 14001:2004 for better environment management, National Standards award and the Gold winner of Taiki Akimoto 5S award.
In 2015, Kelani Cables PLC was conferred with the Asia's Best Employer Brand award. Kelani Cables was recognized for sustainable development at National Green Awards in 2015. The company bagged the Silver award for best organisational CSR brand under the B2B brand category at the SLIM Brand Excellence awards in 2015.