---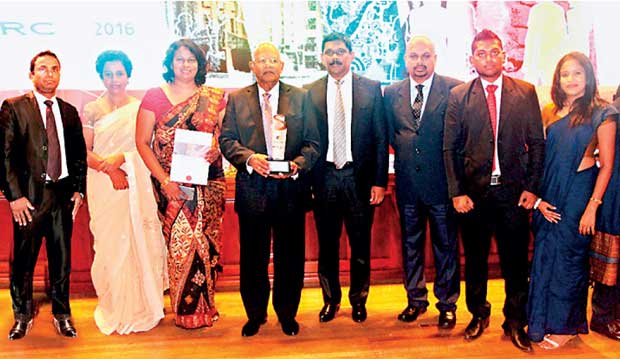 Director/CEO Mahinda Saranapala with his team—from left Gihan Widanagama (Manager, HR- Kelani Cables PLC), Shamira Perera (HR Executive), Shyama Perera (Manager–Technical Servises), Anil Munasinghe (Genaral Manager-Sales, Kelani Cables PLC), Upul Mahanama (Genaral Manager-Operations, Kelani Cables PLC), Dimuthu Chathuranga (HR Executive) and Rashmi Shermila (HR Assistant)
Kelani Cables PLC, Sri Lanka's number one brand in secure electrical and communication cables won Silver Award at the South Asia's largest HR event, National HR Conference 2016 recently held at the BMICH. The event was organized by the IPM (Institute of Personal Management).
Kelani Cables was conferred with the Silver Award in recognition of its best HR practices focusing employees who are the major force that adds value to sustainability of the company.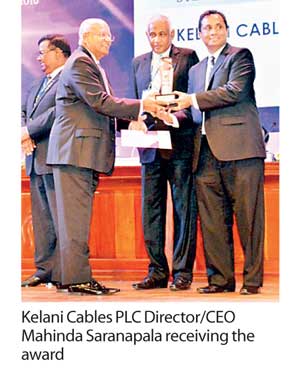 Selection of Large Scale award winners was conducted in three stages. An in-depth audit of HR practices of the respective companies was done followed by a final viva conducted by a panel of eminent personnel in the HR field to shortlist the award winning companies.
Kelani Cables PLC Director/CEO Mahinda Saranapala commenting on the National HR award conferred to the company said, the magnitude of HR practices by Kelani Cables could be judged by its HR theme; '480 Hearts, 1 beat'.
"We treat human resources as the backbone of our company. Thus in every Endeavour our foremost responsibility naturally becomes relying on our human resources. We evaluate and recognize their services, train and develop them constantly with the object of making Kelani Cables one of the best companies to work in. This National HR Award bestowed to Kelani Cables is an endorsement by IPM towards our best HR practices".
Kelani Cables PLC HR Manager Gihan Vidanagama who championed all HR activities of the company said the enormous success Kelani Cables has earned over the years was due to the untiring efforts of its employees.
"We always make emphasis on their professional career development and personal development. This National HR Silver Award comes as recognition to our services towards people's development and we are honored by it. It is also great encouragement for us to enhance and sustain our best HR practices. Kelani Cables does scientific evaluation of functions of its employees and adapt necessary steps to train and develop them. Their welfare is looked after and positive attitudes are induced to employees in the training and development process. Workers with high aptitude are offered with foreign training to further develop their skills", he said.
Kelani Cables PLC is a one hundred percent Sri Lankan company serving the nation for 47 years manufacturing electrical and communication cables.
The company achieved 'Super Brands' status in the electrical and telecommunication sector in 2008 for professional supremacy it demonstrated in the electrical and communication cables sphere.
Kelani Cables PLC is the proud recipient of ISO 9000:2008 certification for quality, ISO 14001:2004 for better environment management, National Standards award and the Gold winner of Taiki Akimoto 5S award.
In 2015 Kelani Cables PLC was conferred with the Asia's Best Employer Brand award.
Kelani Cables was the sole organization in the electrical and communication cable manufacturing sphere recognized for sustainable development at the National Green Awards in 2015.
The company also bagged the SLIM Brand Excellence Silver Award in 2015 for the best CSR brand name.