---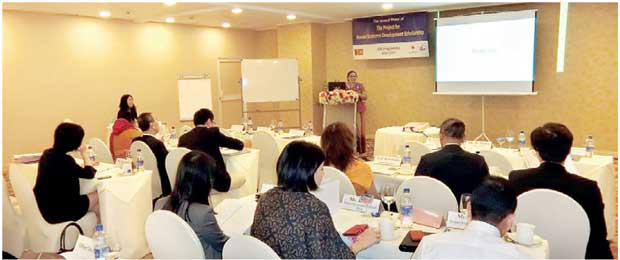 A special reporting session was held at The Hilton Colombo recently where a total of 15 Japanese Grant Aid for Human Resource Development Scholarship Programme (JDS) fellows presented their master's thesis findings and action plans, following the completion of their two-year study courses in Japan.
Through the JDS, funded by the Government of Japan, facilitated and implemented by the JICA, young, talented and capable Lankan government officials are able to follow higher education opportunities at renowned Japanese universities.
Every year, 15 young public sector officials are selected to follow courses in Japanese universities for two-year master's degree scholarship programmes in the fields of public policy and finance, economics including development economics, business management, environmental management, disaster management and climate change. At the end of the current cooperation period, 120 government officials are to receive master's degrees under the JDS.
The reporting session was attended by Japanese Embassy Economic Cooperation Division Head S. Waratani, JICA Sri Lanka Chief Representative Kiyoshi Amada, SLIDA Director General W. Perera and the senior professors of the Japanese universities receiving JDS participants in Japan, such as the University of Tokyo, University of Tsukuba, University of Hiroshima, University of Waseda, Graduate Institute of Policy Studies and International University of Japan.
Amada, addressing the gathering noted, "Through the JDS scholarship scheme, it is firmly believed that participants will acquire expert knowledge, build professional networks and on their return take an active role in facilitating social and economic progress in the country.
At today`s session, I was really fascinated to listen to the interesting research findings of the JDS fellows. I am now quite confident that these efforts and hard work of yours will be and can be utilized for future policy planning of the government towards the economic growth of Sri Lanka."
Other than its academic diversity, the JDS programme is renowned for its special characteristics, which are incomparable with other similar programmes in terms of preparations and amenities provided to its fellows. An assigned agent provides close facilitation at the stage of pre-departure and on-arrival to Japan such as a local orientation session, a farewell reception and identifying suitable accommodation in Japan.
The event was followed by a special dinner reception for all JDS fellows and officials and visiting university professors hosted by Japanese Ambassador Kenichi Suganuma at his residence.