---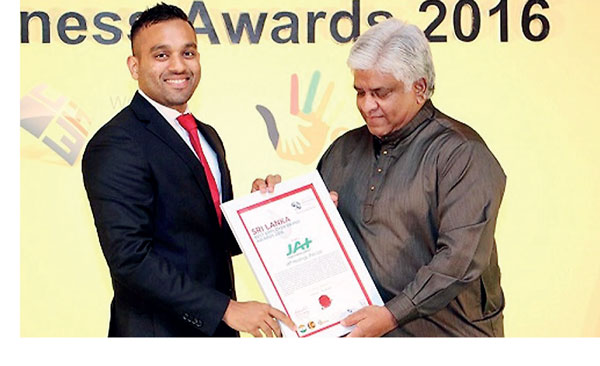 JAT Engineering Director Richard Gunawardene receiving the award
JAT Holdings announced that it has been named Sri Lanka's Best Employer Brand, an award conferred by the Employer Branding Institute, World HRD Congress & Stars of the Industry Group, with CHRO Asia as a strategic partner and endorsed by the Asian Confederation
of Businesses.

The Sri Lanka Best Employer Brand Awards recognise organisations in the country which have demonstrated excellence in building brands as an employer of choice. This award distinguishes JAT Holdings for having a distinct identity that is visible in its implementation of best practices, policies and strategy in human resources.

"As a rapidly growing company with a staff strength of over 350 employees, we couldn't be any prouder," said JAT Holdings Managing Director Aelian Gunawardene.
"Our employees are fully aware that they can bring meaning to the job and continuously challenge the status quo in the deep belief that we can make our industry sustainable. We encourage them to take ownership and be the driving force behind JAT Holdings success in our industries
and markets."

The award was conferred to JAT Holdings based on its diligence in the consistent improvement in HR policy, being a social and equal opportunity employer and above all for its hallmark feature in developing and nurturing future leaders. As per the criteria requirements of the judging process, JAT Holdings was scrutinised by a research cell, which consisted of professionals from different parts of Sri Lanka. These professionals were then required to submit their findings to a jury which would then determine the winner.

The officiating jury consisted of senior business leaders belonging to the calibre of former Economic Times President and CEO Dr. Arun Arora, Onward Technologies Chairman and MD Dr. Harish Mehta, Asia Pacific HRM Congress Global Chairman Prof. Tim Hilton, World HRD Congress Global Chairman Jack Jones, Stars of the Industry Group Global Chairman Jonathan Peters, former IIM Ahmedabad Dean Prof. Indira Parikh, World SCR Day Founder Dr. R.L. Bhatia and President and Chief N Sights Officer Nine Woodarad.

The jury based its decision to award JAT Holdings this prestigious accolade for its exemplary practices in the implementation of learning and development initiatives, communicating distinctiveness in employee hiring, training and retention practices as well as for continuous innovation.

JAT Holdings was founded in 1993 and has increased its portfolio during the past 12 years to include global brand leaders such as Sayerlack, Crown Paints, Permoglaze, Norton, Armstrong, Herman Miller and Alno.