---
JAT Holdings stepped in as a sponsor of the National Sales Congress (NASCO) 2016 awards which was held recently at the Water's Edge.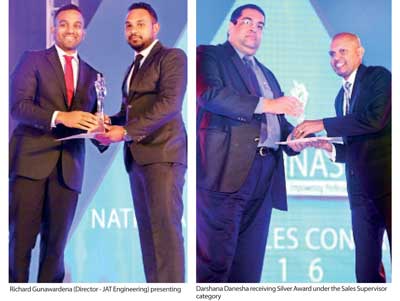 The NASCO awards, organized by the Sri Lanka Institute of Marketing (SLIM), is a premier event dedicated to recognising and honouring the efforts and performances of sales personnel. NASCO serves as a platform which enables companies to identify their best performing sales personnel and individuals so that they may be promoted and raised to higher ranks within their career.
"JAT Holdings is proud to have been a sponsor of the NASCO 2016 awards, which epitomizes the efforts and hard work of individuals in the sales field. JAT's commitment to the awards also highlights the fact that the Company is devoted to promoting and ensuring that individuals not only get the due recognition but are also encouraged to pursue bigger career feats," said Aelian Gunawardene, Managing Director of JAT Holdings.
JAT Holdings also bagged two awards at the NASCO 2016 awards. JAT's star sales performer Darshana Danesha took home the Silver award under the Sales Supervisor category while Suneth Liyanage took home a Bronze in the Front-Liner category.
The awards were presented within fifteen diverse business sectors where territorial managers, sales executives / sales supervisors and front-liners were recognised under each business sector. The period under review for entries was between 31 December 2015 and 31 March 2016.