---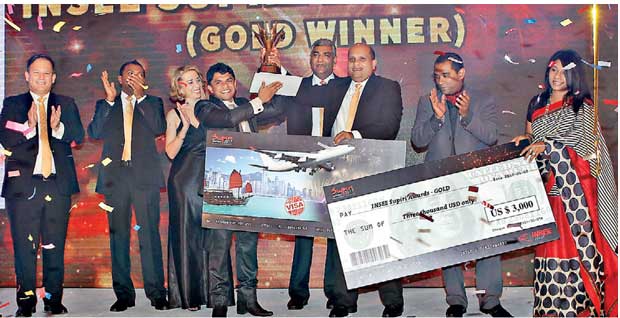 G.M.B. Buddhika Sanjeewa receives the grand award of the night – Insee Supiri Gold – from Insee Cement CEO Nandana Ekanayake (center right), Insee Cement O&HR Director Prasad Piyadigama (third from right) and Insee Cement Executive Committee Members
Sri Lanka's premier cement manufacturer Siam City Cement (Lanka) Limited (Insee Cement) recently held its spectacular annual employee awards ceremony titled Insee Supiri Awards 2017, at Waters Edge, Battaramulla.
The event recognizes and rewards the best performers of the Insee family, with prestigious laurels for its exceptional contribution that adds value to the company's growth in building brighter futures.
Addressing the gathering, the chief guest at the company's landmark event, Insee Cement CEO Nandana Ekanayake said, "Employees are Insee's greatest asset. From the outset, they have been our competitive advantage and an integral part of the long-term success in achieving the premier position as the most preferred local manufacturer of cement in Sri Lanka. Everyone is a winner tonight. We are proud of our people – Insee family, on their commitment and ability in rapidly taking the organisation to greater heights."
Process Engineer G.M.B. Buddhika Sanjeewa won the Insee Supiri Gold Award for playing a pivotal leadership role in reducing electrical energy costs significantly. The Ecocycle team led by Sirimewan Sugathadasa and supported by Thilini Udari, Prasad Amarasinghe and Janaka Uyangoda received the Insee Supiri Silver Award for improving the overall fuel mix and creating value.
The Insee Supiri Bronze Award was won by the Production team – Pradeep Nirosha, Chanaka Wickramasinghe, Aravinda Jayawardana, Anuradha Lekamge, Dilan Ponnamperuma, Mahesh Weerasekara, Gihan Darshana, Ranjith Lenora and Janith Chathuranga.
The winning team's achievements resulted in enhancing the overall productivity of the Ruhunu Cement Plant by system and process modification.
Insee Cement Organisation and Human Resources Director Prasad Piyadigama congratulated the winners at the event and added, "We have achieved our historic best performance last year. It was possible with the unrivalled support from each and every one of you. The Insee Supiri Awards celebrates the passion and commitment of our people that showcases exceptional achievements and contributions in going the extra mile to enable organisational excellence."
The awards highlighted the achievements of the winners that primarily demonstrated living Insee values, innovation and successful implementation of sustainable cost-saving initiatives, exceptional contribution in enhancing the safety standards and for green initiatives. The winners received a galaxy of rewards that included a tour to enjoy Hong Kong's attractions, a range of cash awards, tours, gold coins and trophies.
Sujeewa Perera won the title of Outstanding Sales Person of the Year while the Gold Award for the Outstanding Regional Sales Manager was awarded to Chathura Kekunawela.
The top award winners were selected through a stringent selection process that spanned over three months with over 220 applications being carefully evaluated for the coveted awards by a multi-functional committee of senior managers. This was further reviewed by a panel of external experts comprising business leaders in diverse industries who proposed their recommendations for the top awards to the executive committee of the company.