---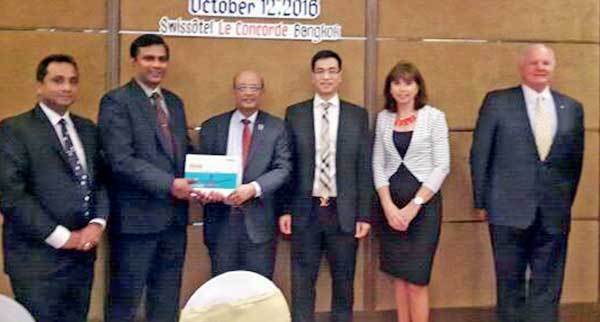 IPM Sri Lanka recently received accreditation from the Asia Pacific Federation of Human Resource Management (APFHRM) for their flagship Professional Qualification in Human Resources Management (PQHRM) programme at the ceremony along with the APFHRM board meeting held on 12th October at the Swissotel Le Concorde in Bangkok, Thailand.

The newly developed Asia Pacific human resources competency framework has been used by APFHRM to evaluate and grant this academic accreditation and endorsement for IPM Sri Lanka's recently revamped PQHRM programme.

Furthermore, the assessment criteria included delivery, assessment and evaluation, industrial training and the awarding institution itself. A panel comprising of members from Australia, Vietnam and Thailand conducted this evaluation.

Past President IPM Sri Lanka and Co-chairman of PQHRM syllabus revision committee Janaka Kumarasinghe and Immediate Past President and Chairman of the External Relations Committee IPM Sri Lanka Rohitha Amarapala accepted the Accreditation Award from the President APFHRM Md. Musharrof Hossain and Lyn Goodear the Secretary General APFHRM attended the ceremony.
IPM Sri Lanka's PQHRM is the very first programme that has been accredited by the APFHRM under their newly rolled out initiative for academic accreditation.

"PQHRM is one of IPM Sri Lanka's most popular academic and professional programmes with a very high level of acceptance in the industry. We are pleased that PQHRM has been accredited and endorsed by APFHRM, the leading human resources related industry association, based on the Asia Pacific HR Competency Framework", said Prof. Ajantha Dharmasiri-President, IPM Sri Lanka.
"This accreditation contributes immensely to IPM's goal of "Creating globally-competitive HR professionals" and will also further enhance the standing and acceptance of PQHRM as a professional qualification in human resources management" he added.

The Asia Pacific Federation of Human Resource Management (APFHRM) is the network of human resources and people management associations' representative countries in the Asia Pacific region. As a collective, the Federation's purpose is to advance the standing of the HR management profession within the region.

It does this through its member representatives regularly meeting to exchange knowledge, research and best practice in HR. The countries that form the federation are Australia, Bangladesh, Fiji, Hong Kong, India, Japan, Malaysia, New Zealand, Papua New Guinea, Philippines, Singapore, Sri Lanka, Taiwan, Thailand and Vietnam. APFHRM is also an active regional member of the World Federation of People Management Associations (WFPMA).

IPM Sri Lanka keeps pace with the new trends and concepts in HR by engaging continuously with the business community to share experiences, thoughts and insights in order to enrich and enhance the HR profession.