---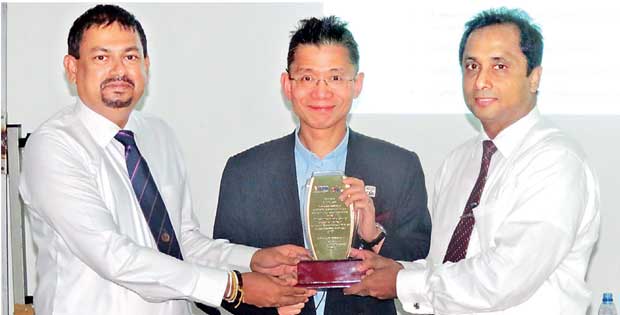 From left: CMI, UK Sri Lanka Branch President Malraj Kiriella, Dr. Ho Law and IPM Sri Lanka Immediate Past President and External Affairs Sub-Committee Chairman Rohitha Amarapala
IPM Sri Lanka, the nation's leader in human resource management, together with the Sri Lanka Branch of the Chartered Management Institute (CMI), UK jointly hosted an evening presentation on 'Emotional Intelligence & Work Life Balance', at the auditorium of IPM Sri Lanka 'HR House' in Polhengoda, Colombo 5 recently.
The presentation was conducted by world acclaimed author, Chartered Psychologist, Chartered Scientist, Fellow of the Royal Society of Medicine, Fellow of the Chartered Management Institute (CMI) and founder of the Empsy Cambridge Psychology Institute Dr. Ho Law on the invitation of the External Affairs Committee of IPM chaired by IPM Sri Lanka Immediate Past President Rohitha Amarapala and Sri Lanka Branch of CMI, UK as joint organisers.
The event was open to the public on invitation and attracted a wide spectrum of interested participants including council members, members, faculty and students of IPM. The joint organisers - CMI, UK Sri Lanka Branch was represented by its President Malraj Kiriella and members.
"We are honoured to have had the opportunity to host Dr. Ho Law, who is an eminent and world-renowned personality in the areas of psychology, management, education and coaching, jointly with the Sri Lanka Branch of CMI, UK. With this endeavour, IPM is fulfilling its mandate to uplift the standard of human resources management in Sri Lanka while providing a platform as well as an opportunity for the HR fraternity to engage in fruitful deliberations on timely topics," said IPM Sri Lanka President Prof. Ajantha Dharmasiri.
"Emotional intelligence and work-life balance are two important factors in today's complex business and social framework that we operate in on a day-to-day basis. Both go hand in hand for the well-being of the individual as well as the organisation. The time is opportune to engage in discussions and deliberations in this regard especially from a human resources management perspective. This will ensure that all concerned are able to understand its importance and far-reaching effects for balancing work and life for optimal results," he added.
"Our goal is to help develop the skills of Sri Lankan managers. Emotional intelligence and work-life balance have great relevance to human resource managers. As such, the Sri Lanka Branch of CMI, UK is pleased to collaborate with IPM Sri Lanka in organising this important session to get the message across to the HR fraternity," said Kiriella.
During his presentation, which was titled 'Yin and Yang of work life balance – emotional intelligence of everyday life', Dr. Law emphasized that in order to meet the health needs of the people, an employer must necessarily provide a method or methods for employees to make their needs known and have ways and means of addressing those needs in an organisational context. This will help the organisations to develop a comprehensive framework for a healthy work-life balance.
Furthermore, Dr. Law explained the inter-relationships that exist between emotional intelligence, work-life balance and mindfulness and the extent to which these factors impact organisational efficiency and effectiveness. The presentation was followed by a Q&A session where members of the audience were able to clarify and address their concerns on the subject.