---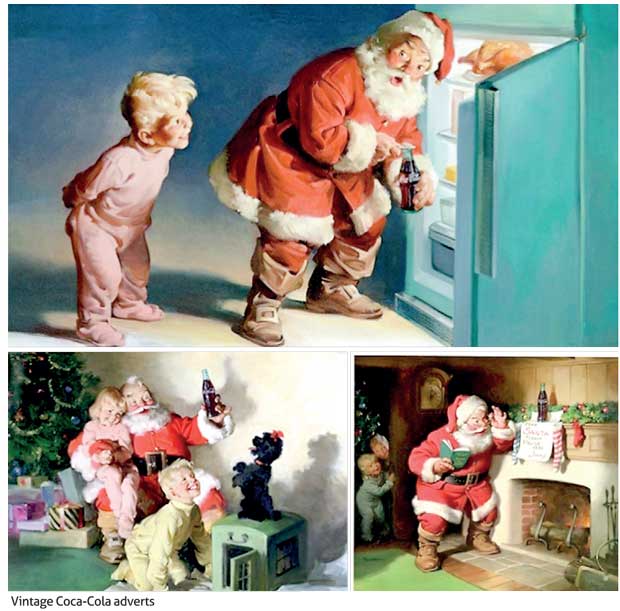 Coca-Cola is indeed the brand that comes to mind when getting into the holiday spirit.Truly, Christmas just isn't Christmas without the plump, smiling visage of Santa Claus in his signature red suit, armed with presents, going "Ho, Ho, Ho! Merry Christmas!," bringing a smile to the faces of adults and children alike.

While Santa Claus has become synonymous with Christmas, he has also become the face of the world's best-loved cola, Coca-Cola.

Although the Santa in red image may have been standardised before Coca-Cola adopted it for their advertisements, Coca-Cola had a great deal to do with establishing Santa Claus as an iconic Christmas figure in America at a time when the holiday was still making the transition from a religious observance to a largely cultural celebration. A regular feature in Coca-Cola's seasonal advertising over the decades, in many ways, Santa Claus has become synonymous with the beloved beverage across the world.

Coca-Cola helped shape the modern-day image of Santa. In fact, the way most of us see Santa Claus – friendly and plump with a white beard – came from Coca-Cola advertising. Before these ads, Santa was drawn in a variety of ways – even as a scary elf.

A long time ago, Father Christmas was shown in clothes of different colours: green, purple, light-blue, navy blue, brown or red. Some illustrations even depict him as a multi-colour figure wearing blue trousers, a yellow waistcoat and a red jacket. In some cases, he even wore brown, black or white furs. On his head, he used to have a mistletoe crown, a hat, a nightcap, a bishop's mitre or a hood.

In 1930, artist Fred Mizen painted a department store Santa in a crowd, drinking a bottle of Coke. The advert featured the world's largest soda fountain and Mizen's painting was thereafter captured in print. Coca-Cola was originally consumed only from soda fountains, but in 1928 drinking from bottles began making its way into homes. By 1937, Coca-Cola bottles had truly risen to popularity, so naturally the holiday ad campaign featured a familiar Santa drinking Coke from a bottle in front of the fridge.

It was in 1931 that the Coca-Cola Company made the decision to start running adverts in popular print magazines and Archie Lee, the executive handling the Coca-Cola account at the D'Arcy Advertising Agency, wanted a holiday campaign that showed a wholesome Santa. Coca-Cola introduced this new friendly, human image of Santa (created by illustrator Haddon Sundblom) in December 1931.Seeking inspiration, Sundblom turned to Clement Clark Moore's 1822 poem 'A Visit from St. Nicholas', more commonly referred to as 'Twas the Night Before Christmas'. Moore's description of St. Nicholas depicted an image of a warm, friendly, pleasantly plump and jovial Santa.

He modelled his creation on Moore's poem and his neighbour. The result was incredible and soon the world fell in love with this festive new Santa Claus. Even after his neighbour passed away, Sundblom continued to create his Santa imagery, only he stepped into the role of a model as well.

From 1931-1964, Sundblom created holiday ads for Coca-Cola featuring Santa, and those images continue to be used each year on bottles, cans and 12-packs. During the Depression of the thirties, Sundblom's Santa offered just what people needed at that critical time: A welcome display of warmth and generosity.
As Americans were preparing for war (WWII), Coca-Cola used their 1943 holiday ad campaign to support the war effort by way of showcasing Santa with a Coke in one hand and his toy sack over his shoulder filled with toys and war bonds. Until 1964, Coca-Cola adverts showed Santa delivering toys, pausing to read a letter, enjoying a Coke and visiting children who stayed up to greet him.

Today sharing a Coca-Cola with family and friends during the holiday season is part and parcel of annual festivities. Thanks to Sundblom and Coca-Cola's beautiful creation, the snowy white-bearded man, with his rosy cheeks and warm smile that radiates happiness, people around the world have grown to love and cherish a powerful image of Santa that has lived on to delight children and adults alike for nearly a century. Coca-Cola and Santa Claus continue to shape popular culture, a bond which strengthens every year and endures for generations.